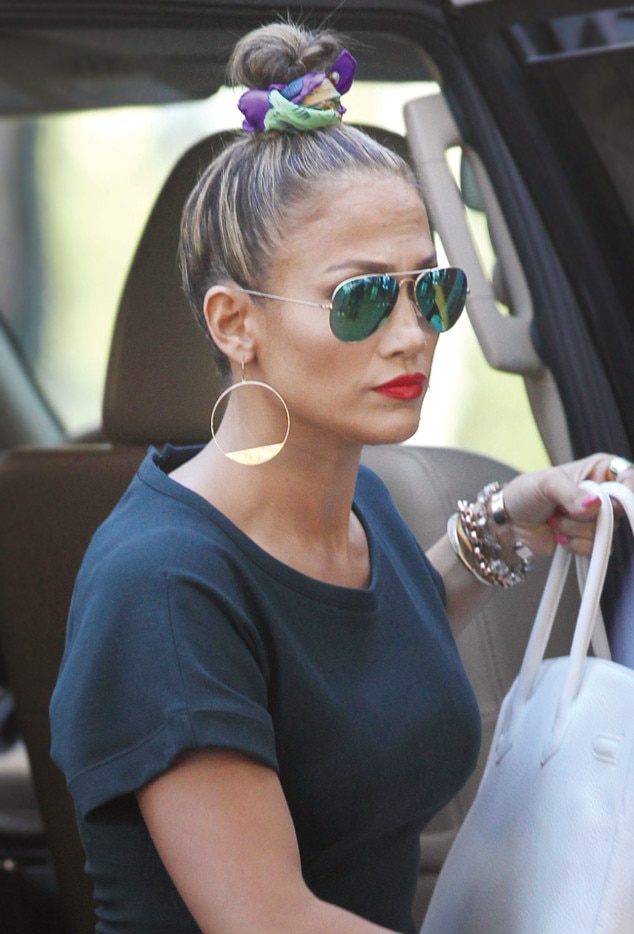 Scrunchies are so '90s…which explains why they're coming back.
Like the crop tops and slip dresses made famous by a young Kate Moss, the oversized, fabric-wrapped hair bands made popular by the likes of Michelle Tanner and Lisa Turtle live on—whether you like it or not.
It's true—they look dated, lacking the clean lines or indiscreet material to modernize your hairstyle. But they are a throwback—like an oversized denim jacket or mom jeans—and, therefore, have re-emerged as trendy once again. The way you style them, however, makes all the difference.

For inspiration, we turned to celebs like Selena Gomez, Jennifer Lopez and Bella Hadid, who fearlessly wore the trend with ease. Of course, we don't have glam squads on hand to help us with our hair. So, we re-imagined their looks for the individual with little time, money and, well, skill. Because we all deserve to look celeb status...even when wearing a scrunchie!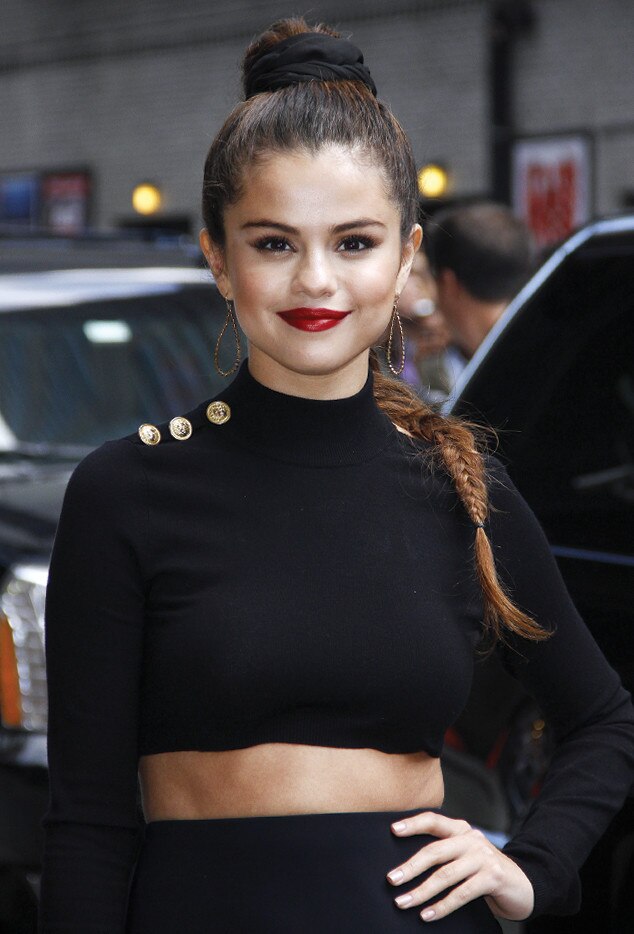 Donna Ward/Getty Images
Selena Gomez
Fans had a lot of opinions when the "Fetish" singer stepped out with a massive black scrunchie on her head in October 2013. In our opinion, the black hair accessory tied in well with her modern, all-black ensemble. Just how the sliver of skin broke up Selena's dark top and bottom, the oversize hair band creates a nice contrast between the
Coach model
's head and sleek fishtail braid.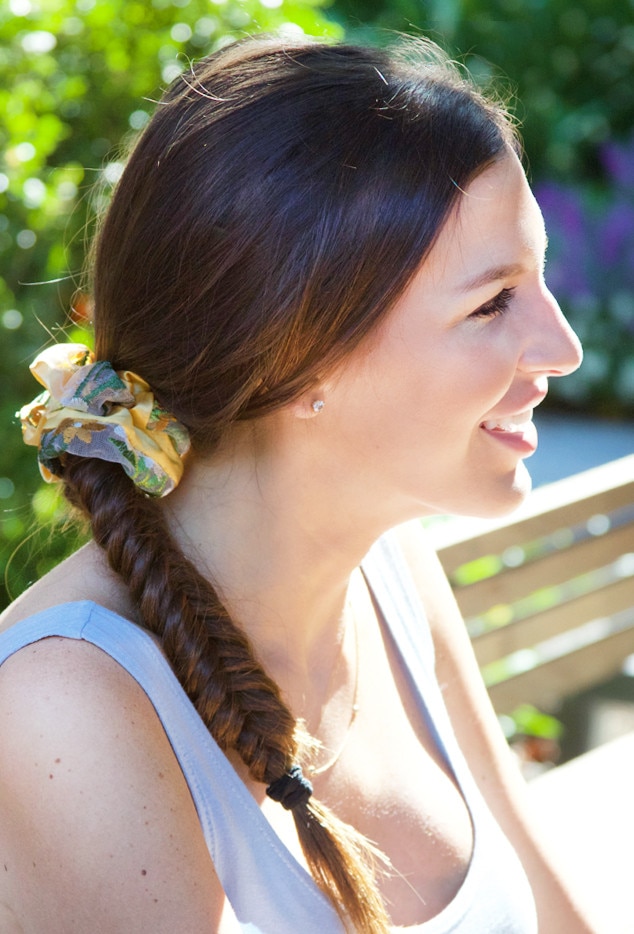 Jacqueline Lee/E!
Fishtail Braid
If you want to try this look in 2017, try a side plait for a more subtle look...unless you want to look like a glamazon. Just like Selena, keep the scrunchie large and in charge—the juxtaposition between the delicate ruffles and crisp lines of the braid is eye-catching. Also like the singer, keep your outfit minimal. Don't know how to create a fishtail?
Read this
.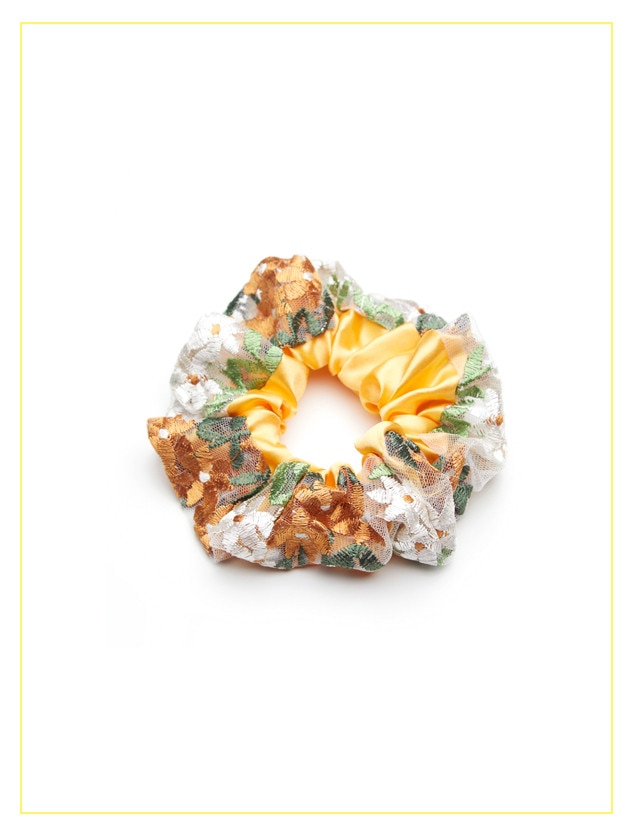 Free People
Embroidered Scrunchie, $6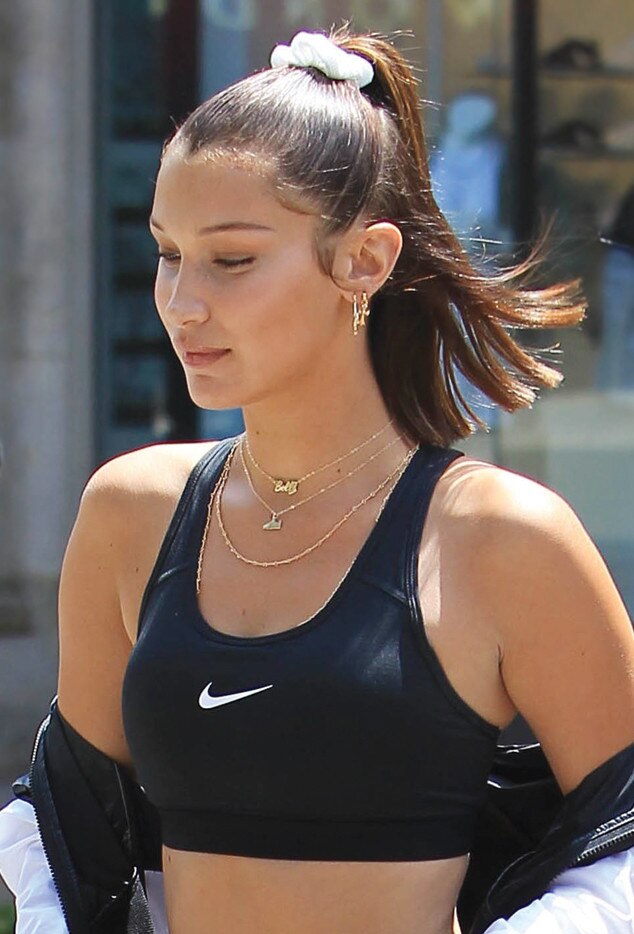 SMXRF/Star Max/GC Images
Bella Hadid
Love it or hate it, at a very basic level, scrunchies get the job done: They get hair out of your face! When you're working out or just want to look like you did, like Bella, put on your best athleisure ensemble and wear your most trendy half-up half-down hairstyle.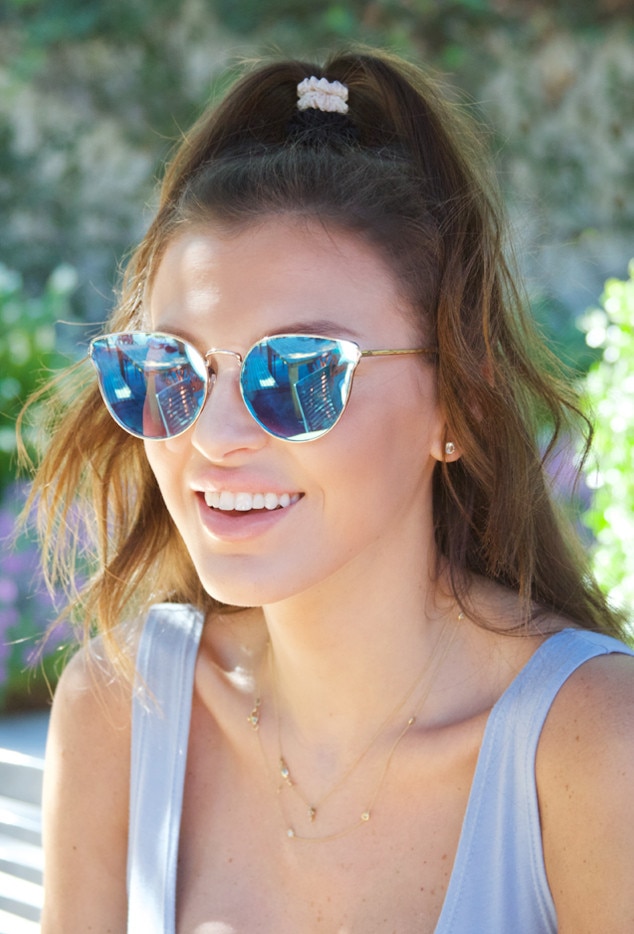 Jacqueline Lee/E!
Half-Up Half-Down
For a fresher take on Bella's look, opt for thinner, 100 percent silk scrunchies to tie up your hair. Not only will this feel more comfortable, but silk ties don't put dents in or damage your hair, which means when you're ready to let your tresses loose, they'll look healthy and ready to go. Bonus: You can wear this look to the gym and beyond!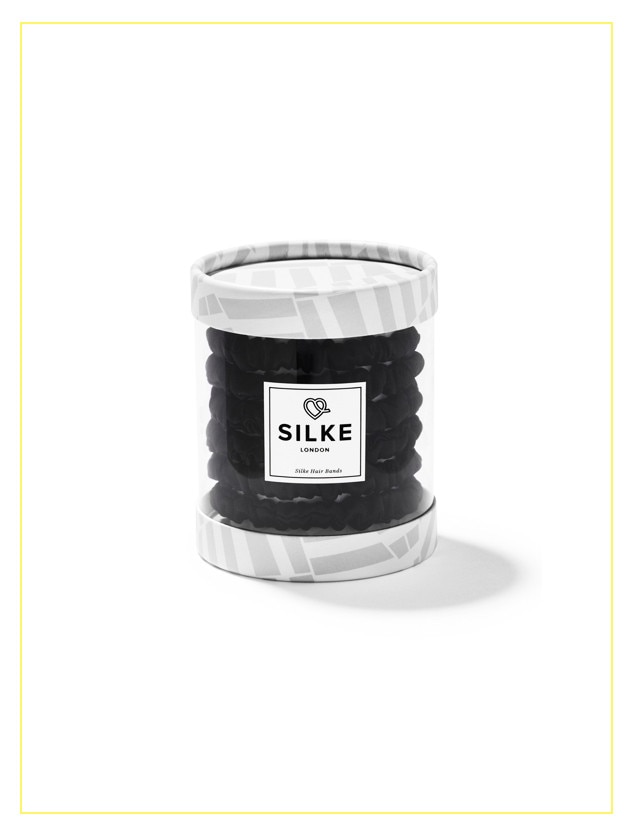 Silke London
Cleopatra, $27.32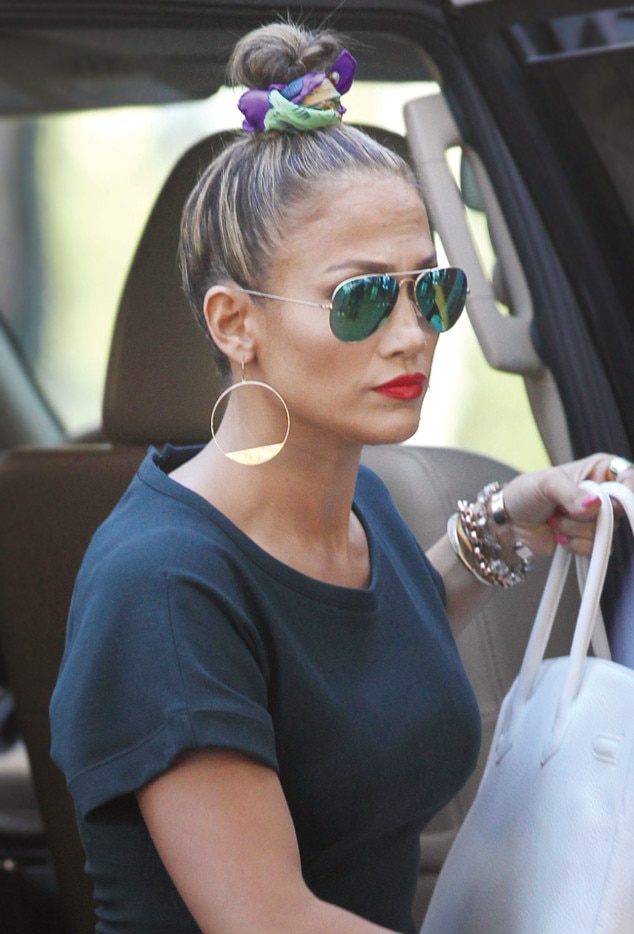 BACKGRID
Jennifer Lopez
Leave it to J.Lo to match her mirrored sunnies to her hair accessory. (Plus, a red lip! And statement earrings!) It's bold, and therefore, cool. The key to this look: Wear it with confidence.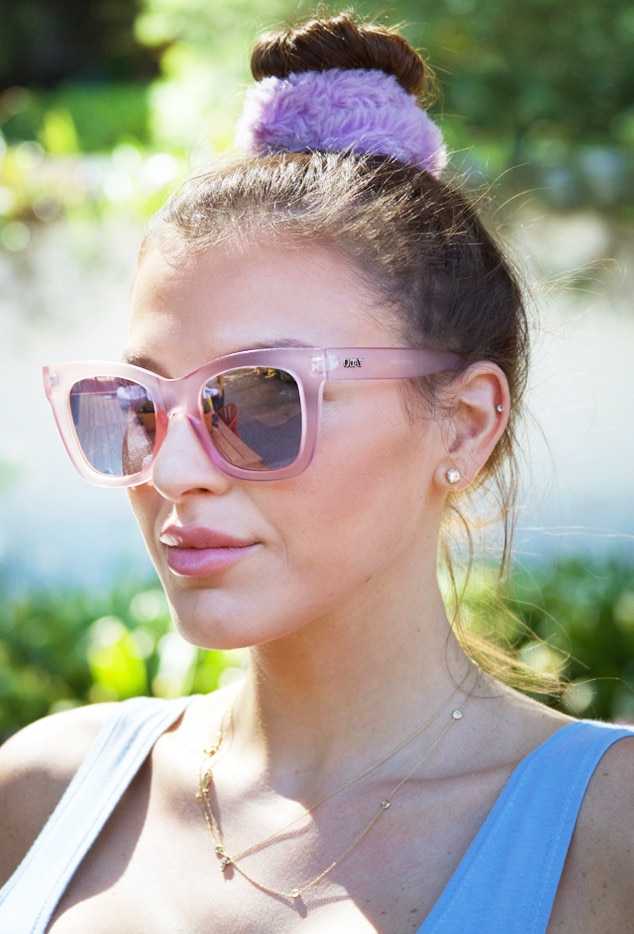 Jacqueline Lee/E!
High Bun
While Jennifer's hair looks sleek and shiny, those of us without a glam squad (or time) can make it as messy as our strands allow. Flyaways and tendrils give the look dimension. Bonus points if you can find a scrunchie with texture. Just make sure your sunnies match!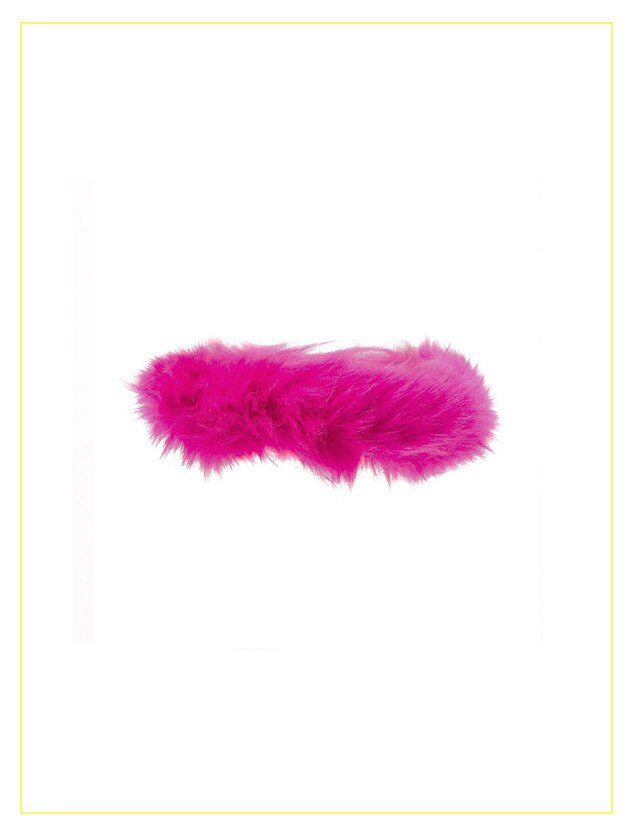 Forever 21
Faux Fur Scrunchie, $2.90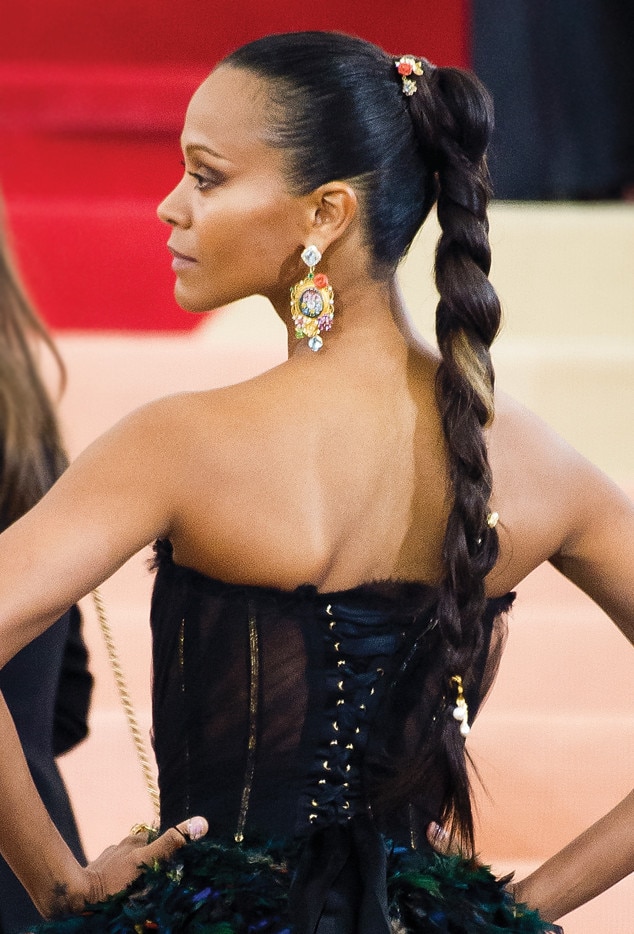 Michael Stewart/WireImage
Zoe Saldana
The
Guardians of the Galaxy
actress didn't wear a scrunchie to the 2017 Met Gala, but she did incorporate floral details to complement her long, braided ponytail. Let's just say she really inspired us.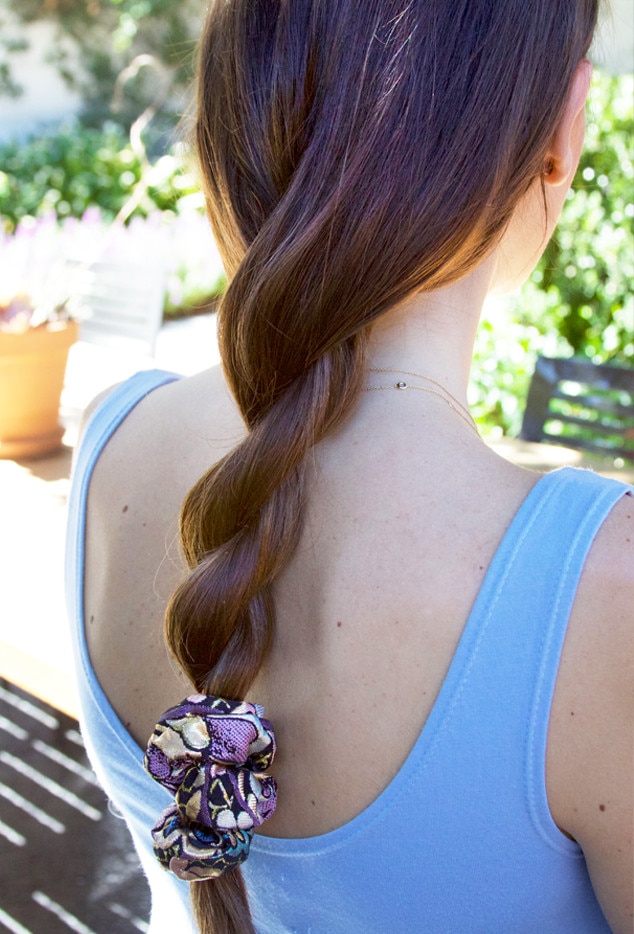 Jacqueline Lee/E!
Twisted Pony
Instead of doing a traditional braid like Zoe, opt for a low, twisted pony straight down your back. Prep you hair with texturizing spray, to create grit (so your hair holds). Then, simply split your hair into two equal parts and start twisting the strands together in one direction 'til you get to the hair ends. Secure with an elastic band, then a patterned scrunchie. Optional: Insert bobby pins at the top of the braid to help stabilize the twist. Pro tip: Wear a top with a low back line for visually stunning effect.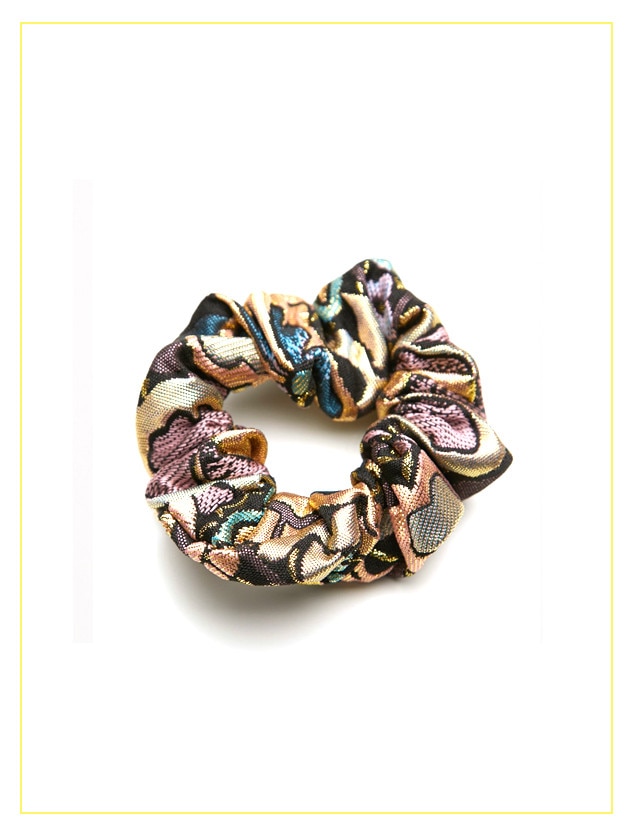 Free People
Metallic Brocade Scrunchie, $6