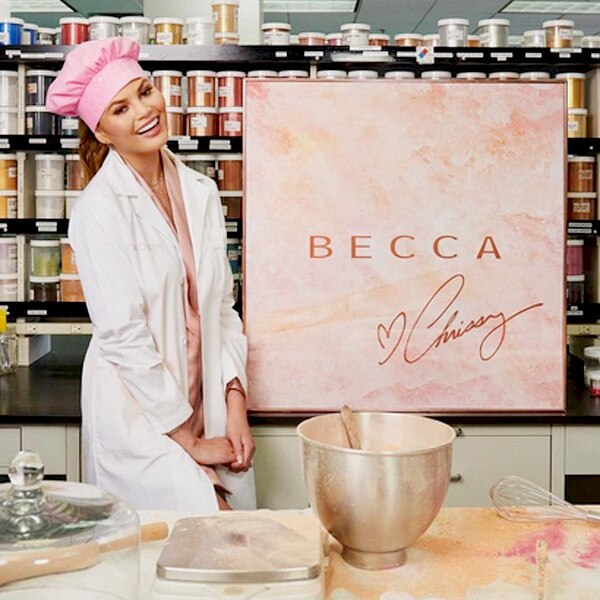 There's no bizarre beauty treatment Chrissy Teigen won't try—even armpit liposuction.
Her makeup routine, however, is refreshingly simple…when she does it herself at least.
At the Los Angeles launch of the highly anticipated BECCA x Chrissy Teigen Glow Face Palette ($46), the unabashedly honest and self-deprecating mom revealed her beauty essentials, palette tips and makeup pet peeves—all while eating pizza, drinking rosé and dropping F-bombs in between.
"Everything about me is fake except my cheeks," the Sports Illustrated model said jokingly. She proceeded to point to her forehead, nose and then lips: "Fake, fake, fake."

True or not, the Lip Sync Battle star, with the help of makeup artist Mary Phillips, did get real about how you should really be highlighting (read: no silvery swipes across your face).
"I don't want to see any teen moms on Teen Mom wearing it wrong," said Chrissy. That may have been the incentive for the famous foodie to team up with BECCA Cosmetics to create a face palette.
"Everything is very buildable, so any skin tone can really wear [it]," added Mary, who also counts Jennifer Lopez, Bella Hadid and Hailee Steinfeld as clients. "The blush is sheer so it can work on any skin tone; same with the bronzer. There's not too much glow in it."
Keep reading for more of Chrissy's hilarious musings and surprising beauty revelations.
On the Malibu Soleil Bronzer…
"I'm not doing contour on my f*cking self during the day. When I go to Bristol Farms, I'm not using contour, I promise. I just [use bronzer on] the forehead, lower cheek, underneath [the jaw]—that's it. The bronzer is the easiest part."
Pro Tip: Less is more for a daytime look. Mary likes to use an angled brush with powder bronzer. "I like to brush it back into the hairline," said the makeup pro. "It fits right under the cheekbones."
On the Rose Gold Highlighter…
"Before [having a] baby, I used to get spray-tans every two or three days. Fiona [Locke] is one of the most fantastic spray-tan artist in Los Angeles. After Luna, I just gave up basically. My color started changing, so then…rose gold saved my life."
On Her Skin Regimen...
"I will say I have never, ever in my life have washed my face at nighttime. I shower in the morning, if that. I do the whole iS Clinical sh*t. I will use makeup wipes, and I'll rip off my eyelashes and stuff."
On Her Everyday Beauty Look...
"I went to the dentist yesterday to shave down my teeth. What did I [use]? Basically, a great eyelash curler. Everyone says Shu Uemura, and I'm like, 'OK that sounds great,' but Lancome for my Asian eyes is better. So I do Shu, a Lancome mascara, I love a Nars concealer, a big fucking hat and some thigh-highs, so everyone is like, 'OMG, look what a whore she is.' As long as you wear thigh-highs, no one cares about your makeup."
On Her Favorite Drugstore Products..."I will live for Aquaphor 'til the day I die, I swear to God. I pretty much live at the drugstore: Bioré nose strips, Ardell lashes are my favorite and Clean & Clear wipes."
On the Instagram Beauty Trend She Hates...
"I don't want to be a hater but I am. So, I watch all those Instagram videos. I see all those Instagram photos, and basically, I did not want [the palette] to look like those girls that just look silver. I feel like everyone all the sudden, and listen I'm all for a slay queen, but we don't have to say, "Slay Queen" just because you're like silver zorbot...I'm over that look. I think that look is done. I'm tired of the silver cheekbones. I'm tired of the silver nose. I'm fucking over strobing."
On the Craziest Treatment She's Ever Done…
"I had my armpits sucked out, which was one of the best things I've ever done. I had lipo on my inner armpits. It's a big secret, but I don't care. It was maybe nine years ago or so. It added two inches of length to my arms. It was so easy; it made me feel better in strapless dresses and made me more confident. It was the dumbest, stupidest thing I've ever done, but I like it, whatever."
No regrets.
The limited-edition palette launches today on the Sephora Mobile App and on Monday at BeccaCosmetics.com.