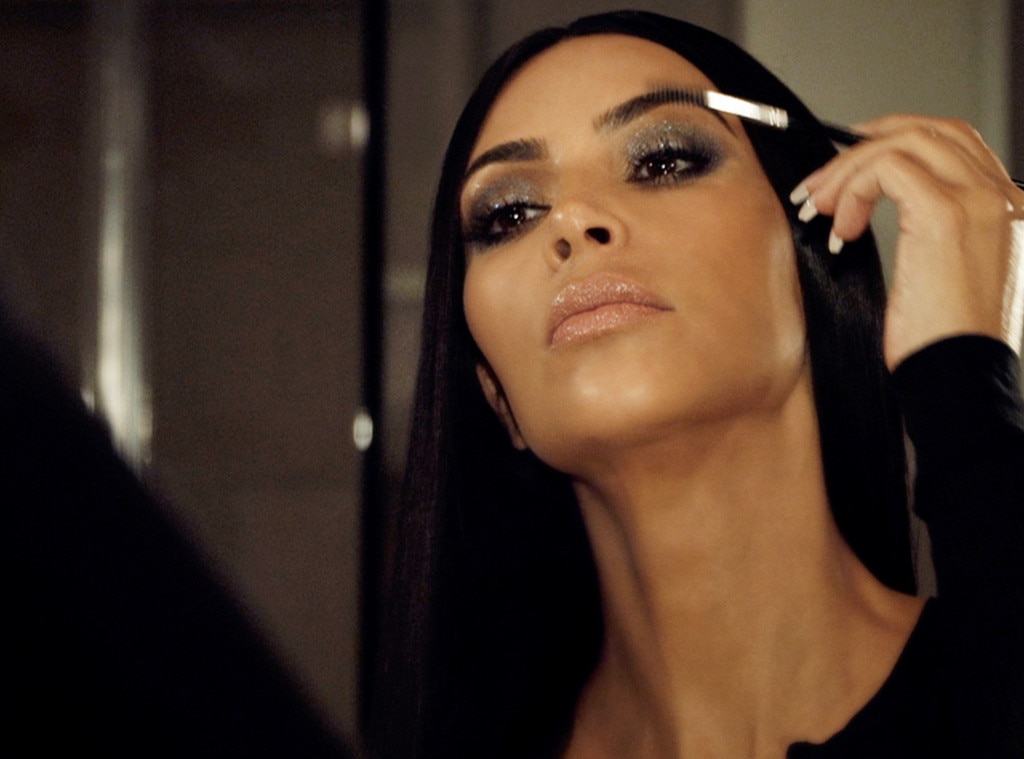 Kim Kardashian may be the fairest one of all—but we can come pretty damn close.
This week, E! News exclusively premiered a video of the mogul modeling Pat McGrath Labs Dark Star 006, a 7-piece eye kit and the first launch from legendary makeup artist Pat McGrath's "In the Mirror" series. In a black, puffer jacket and gold jewelry, Kim debuted an intense smoky eye, channeling a modern-day Evil Queen.

Even without Kim's endorsement, the $130 eye kit will surely sell out, as did McGrath's lip kits—seen on Rihanna, Taylor Swift and Naomi Campbell. But is Dark Star 006 actually worth it? And even more importantly, do we need to be pro makeup artists to use it?
Full disclosure: I was a little intimidated to try it, not because the products come in a bag, packed with an overwhelming amount of sequins, but because I wear little to no makeup on a daily basis. Still, I suited up in Kim K.-approved armor (the budget-friendly version): a black Nike puffer jacket and Adornmonde gold earrings. Copying the exact steps used to get her look, I put on my best face possible.
Black SmudgeLiner Eye Kohl: Chubby liners are nothing new—Laura Mercier and Clinique make similar eye products that go on like silk. This pen's glide, however, is not quite the smooth operator. In fact, the initial tension felt during application gave me pause: "Is this kit all hype?" I lined my top and bottom lash lines; the pen slightly dragged my skin as it went. The outcome was imperfect, like how a child draws on kids menu at Olive Garden. But once I began smudging the kohl, it transformed from scribble to sultry—the perfect smear you get after a night of dancing and perspiration, the kind of look Kate Moss became famous for in the '90s. It was perfectly imperfect and so easy to use. I could smudge the product across my lids and have a nice, translucent shadow, too. Needless to say, this is my favorite piece out of the entire kit.
UltraViolet Blue Pigment: I was a little nervous to take on the next step, so much so that my hands were shaking a bit while I applied it to my entire lid. "UltraViolet Blue Pigment can cause a temporary staining of the skin," the kit warns. "To avoid this we recommend using a makeup primer prior to using." That's not scary at all. To no one's dismay, the sparkly midnight blue pigment came off with a few cleansing wipes. Whew! Like with the other shadows, you can use your finger or a brush to apply. Although it looks vibrant in its packaging, it went on a shade or two darker on my skin. It's very buildable, so I layered it on…to get the intensity to a Kim K.-worthy level. Tip: Listen to the kit and apply primer—it'll prevent unwanted shadow creases.
(This piece comes in Ultrasuede Brown and Dark Matter in other kits.)
Dark Matter Pigment: While this black hue looked like heavy cream liner in its packaging, like the other shadows, it was quite soft and buildable. When placed on the lid center, bottom lash line, inner corner of the eyes and blended out, it toned down the blue shadow into a steel-gray hue much like Kim's. It didn't create a dark abyss on my eyes like I thought. It did, however, create raccoon eyes—shadow fallout is going to happen, and it's going to get messy. Tip: Make sure you do your eyes first before the rest of your face makeup.
Mercury Pigment: I then applied this grayish-gold shadow at the same points as the black hue and blended. It added a deeper shimmer to the combo. This hue was particularly impactful at the inner corner of my eyes. I was getting somewhere.
Astral White Pigment: This iridescent shadow is like sprinkles on top of an ice cream sundae. The blue and green-tinged sparkle is the stuff mermaid scales and pixie dust are made of. When applied to the same points as the gold and blue pigments and blended, it creates a glittery effect you'd never get with just one shadow.
Cyber Clear Eye Gloss: OK, here's the sticky situation: Once you've layered on the pigments, blended them together and cleaned up the mess that is shadow fallout, you'll have a look that's perfectly ready for the night out. Go now and don't look back. If, however, you want a glass-like finish, prepare yourself for next-level makeup artistry. Why did I go on? I'm a masochist…and I already committed to looking like Kim—so, what's one more step? I took a deep breath and, with my ring finger, smeared a small dollop of the eye gloss across my lids. Mistake number one: I used way too much—it was like a Slip 'n' Slid on my eyes! Mistake number two: I didn't know what to do with the residue, so I attempted to pat it in. Do not do this! Once smeared, don't touch your eyes. Don't try to blend, mix or move anything. Because if you do, you'll take the pigment with you—a patch will move here; another patch will move there; and, you'll just be a patchy mess.
Luckily, once the gloss dries slightly, you'll be able to add back more pigment. I'm not going to lie: I basically started over. Moral of the story: Use less gloss.
The Final Look: It doesn't look like it in the photos, but I ended up with layers of product on. I had enough eye makeup on to last a weekend in Vegas. The great thing about this kit is that you don't have to go Kim K.-intense. You can wear it as subtly as you want it or build more for dramatic effect.
Is the hype surrounding this $130 kit worth it? In my opinion, yes—each product can be used or worn in its own look. Not to mention, if you do the math, it's less than $20 a piece, which is less than other popular prestige products.
I will say, though, that creating a Kim-worthy look takes practice. While using the kohl liner is dummy-proof, the eye gloss is going to take some getting used to. Honestly, I could do without it, but I understand why beauty buffs would be obsessed with it. It creates a high-fashion effect you'd see on a magazine cover. I'm just not that fancy.
What you're really paying for here is a quality kit, curated by a beauty veteran to create a look with dimension and depth. While you can recreate Kim's look, you don't have to. You're meant to play and experiment with the products—to create your very own Evil Queen, night crawler, forest fairy or whatever-it-may-be look.
That's the real magic.
Dark Star 006 is available April 11.