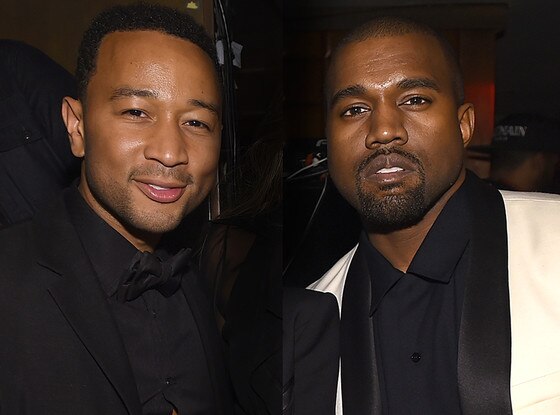 John Legend could sense something was wrong with Kanye West before the rapper was hospitalized on Monday.
The singer sat down with CBS This Morning and revealed he and wife Chrissy Teigen had been with Kim Kardashian and her husband recently.
"We were with Kim actually, you know, right before all of that," he explained in the interview, referencing West being rushed to the UCLA Medical Center. "I was concerned by what I saw, so hopefully he's getting some rest and some time to figure things out."

Kim had been in New York City to attend the Angel Ball the night West was rushed to the hospital. However, she ended up missing the event to immediately fly back to Los Angeles to be with her husband.
E! News learned his hospitalization came after the Los Angeles Police Department responded to a disturbance call at 1:20 p.m. on Monday. Upon their arrival, we're told "the disturbance call became a medical emergency" only.
According to NBC News' sources, no criminal activity was involved and the decision to hospitalize the "Fade" rapper. Rather, it was for "his own health and safety."
West has been making headlines quite a bit recently.
Not only did he cancel the remainder of his Saint Pablo tour, but he also went on a rant about Jay Z and Beyoncé, claiming the rapper was out to get him.
After arriving more than an hour late to his show in Sacramento on Saturday night, the 39-year-old told the crowd, "Beyoncé, I was hurt 'cause I heard that you said you wouldn't perform unless you won Video of the Year over me and over 'Hotline Bling.' Now, don't go trying to diss Beyoncé. She is great. Taylor Swift is great. We are all great people. We are all people. But sometimes we be playing the politics too much and forgetting who we are just to win. F--k winning. F--k looking cool. F--k being cool."
He continued, "I've been sent here to give y'all my truth even at the risk of my own life, even at the risk of my own success, my own career. I've been sent here to give y'all the truth. Jay Z—call me, bruh. You still ain't called me. Jay Z, call me, Jay Z; I know you got killers. Please don't send them at my head. Just call me. Talk to me like a man."
He then left the show after performing just three songs, shouting, "I'm on my Trump s--t tonight."