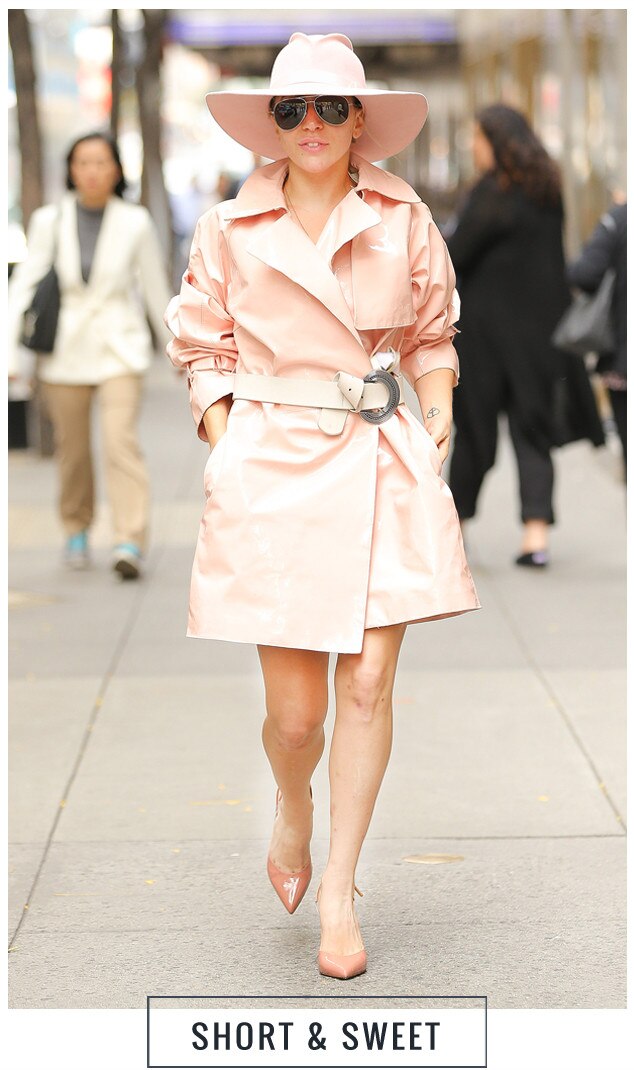 This is how you wear a trench coat in 2016.
Celebs are loving a coat of another style lately, and it's a pretty unexpected choice considering the super-mature, timeless, dare we say a little old school vibes it gives off. On the other side of the coin, they're incredibly versatile, always look polished and it helps they keep you warm too (especially as the temps drop).

The moral of this story is it's time to reconsider having one in your closet for the above and below five reasons.
Lady Gaga's all-pink-everything ensemble is taking the word outerwear literally. Instead of topping off her outfit with the trench coat she's decided the trench is the outfit. Wondering how you can pull off this look? The tip here is simple: Find a coat with great structure, something special enough it can stand alone, and a belt then wrap yourself up tightly, add your shoes and voila!
When it comes to the model off-duty way, you're going to want to keep your trench open like Karlie Kloss. You don't have to rock a crop top like the supermodel, but you do have to sport a cute outfit underneath. And even though the coat is secondary, it plays a lead role in the overall look. We're getting major detective vibes from this number.
Like Kloss, Chrissy Teigen also chose to wear her's open, but in a super incognito way. When it you stick to a monochromatic way of dressing, all of the separate pieces tend to blend—and that's the point. So it's important to keep your lines clean, play up textures and have dimension, which is exactly what the trench coat adds to the look.
Anna Kendrick chose to have both her trench and outfit play equal roles in the whole ensemble. With a patterned shirt peeking through and a pair of embellished heels, the actress used her coat to—literally—tie it all together. This look is perfect for days where you're busy running to and from the office.
If you're bored with always wearing neutrals, follow Kenya Moore's lead and throw some color into the mix. Your once-ordinary trench is now a statement coat! Every time you slip it on, you're sending a message that you're not afraid to stand out.
Which way is more
you
?