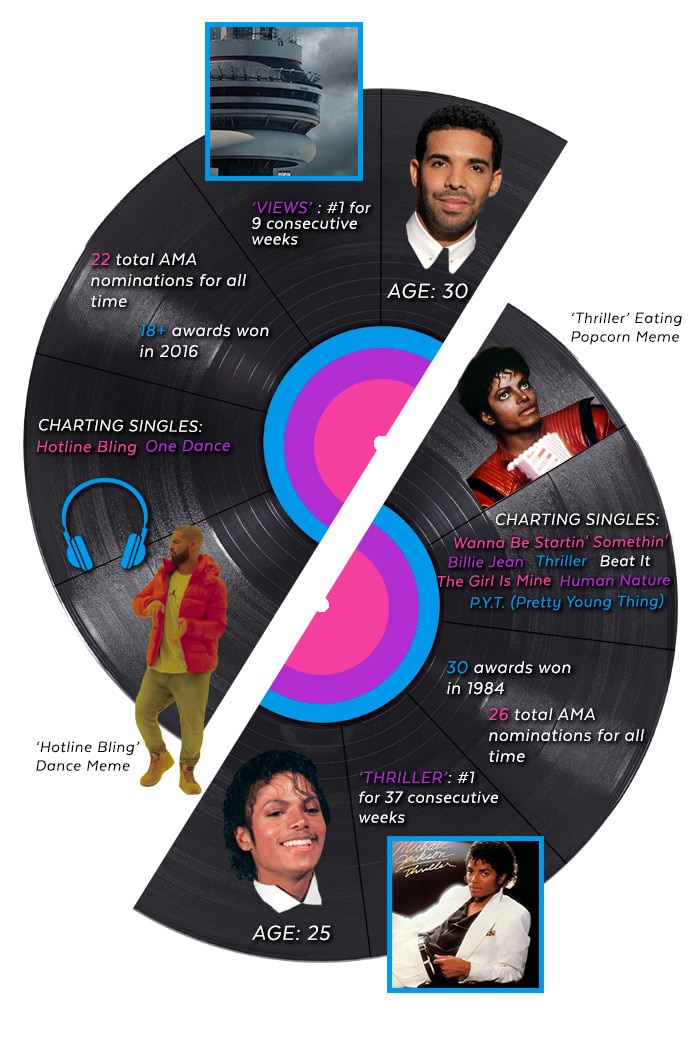 A battle between Michael Jackson and Drake? Please don't make us choose.
Fortunately, this isn't a competition for who deserves more praise or credit. Instead, it's an acknowledgement that new records could be shattered Sunday night at the 2016 American Music Awards.

For those who didn't realize, Drake surpassed Michael's impressive accomplishment for having the most AMA nominations in one single year with a whopping 13 nods. The King of Pop has held onto the title since 1984 when he was up for 11 different awards.
But instead of limiting things to just the AMAs, we're expanding it even more to take a look inside Drake's successful year in all of 2016 thanks to his Views album.
At the same time, we can't help but acknowledge Michael's incredible Thriller disc in 1984 that proved to be a game changer in the industry.
As seen in our infographic, both performers found huge success before they turned 30 years young. And when talking numbers, the amount of success these two share is music to any industry member's ears.
Whether you are more of a "One Dance" kind of guy or can't resist belting out "Human Nature," both artists have extremely catchy songs. And the respect between artists is evident.
"[Seeing] Michael Jackson, for me, was one of the first times that I really [felt] the power of an entertainer," Drake once shared with MTV. "I remember having 'Moonwalker'—I remember having that on [VHS] cassette and I remember how religiously I used to watch it. I used to feel like, as a kid, it was the most amazing place for me to escape to, because it was this world that Michael created."
The rapper continued, "Now that I'm older I can look back and be like, 'Wow.' You know, he was one of the most consistent entertainers of all time. For me, I remember just how much I used to watch that movie and study it."
No matter who wins or loses Sunday night, we're happy to have both of these artists on our playlists.
The 2016 American Music Awards air Sunday night at 8 p.m. on ABC.
Live From the Red Carpet: The 2016 American Music Awards hosted by Tinashe and Jason Kennedy airs Sunday, Nov. 20 at 6 p.m. ET/PT