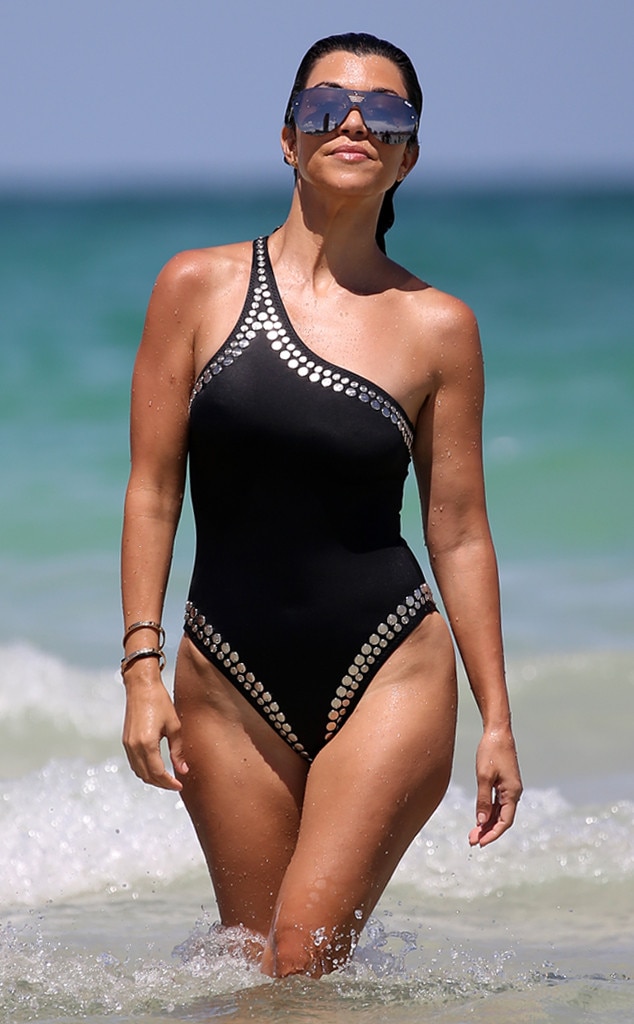 When it comes to her fitness regimen, Kourtney Kardashian refuses to take a day off.
The 37-year-old mother-of-three stopped by This Morning Wednesday with fresh insight into how she works up a sweat, and let's be real, Kourt's already busy burning calories while most of us are still pressing the snooze button on our alarm clock."If I know bikini time is coming up or I have a trip or I have something that I want to be extra in shape for, I'll do dips on my bathtub for my triceps. I'll try to do three sets of 25 a day," the E! reality star revealed.
Kourtney continued, "And then no matter what I always do 100 squats before I get in the shower because I won't forget. It's like my time. I'm about to get in the shower and I just do 100 squats."
Easier said than done!



Kourt admitted that she tries to hit the gym at least six times a week, but never sticks to one set of exercises.
"I love to switch it up... when you get too much into a workout routine your body gets used to it so, I think having a workout partner really motivates me in the morning," she explained.
Fans of the famous family will know Kourtney's fitness partner-in-crime is of course, Khloe Kardashian. A quick peek at either star's Snapchat will reveal the two in total beast mode while working out with their personal fitness gurus.
"I usually work out with Khloe and we have a trainer. We are always doing something different and we usually leave it up to the trainer. If I'm really feeling anxious or something I might be like 'let's do boxing today,'" Kourt added.



As for her nutrition plan, the Keeping Up With the Kardashians fixture swears by her gluten and dairy-free, mostly plant-based diet to help her feel and look fantastic from the inside out.
"The first thing I have when I wake up is an avocado smoothie," Kourtney admitted. "I would say the avocado shake definitely makes my skin glow and my hair really healthy."
In the end, Kourtney's all about her inner sense of self, and that's a routine everyone can hop on board with: "I think beauty from within is a really easy way to keep up with the beauty routine, it's a whole lifestyle."



Watch the season finale of Keeping Up With the Kardashians Sunday, Nov. 20 at 9 p.m., only on E!