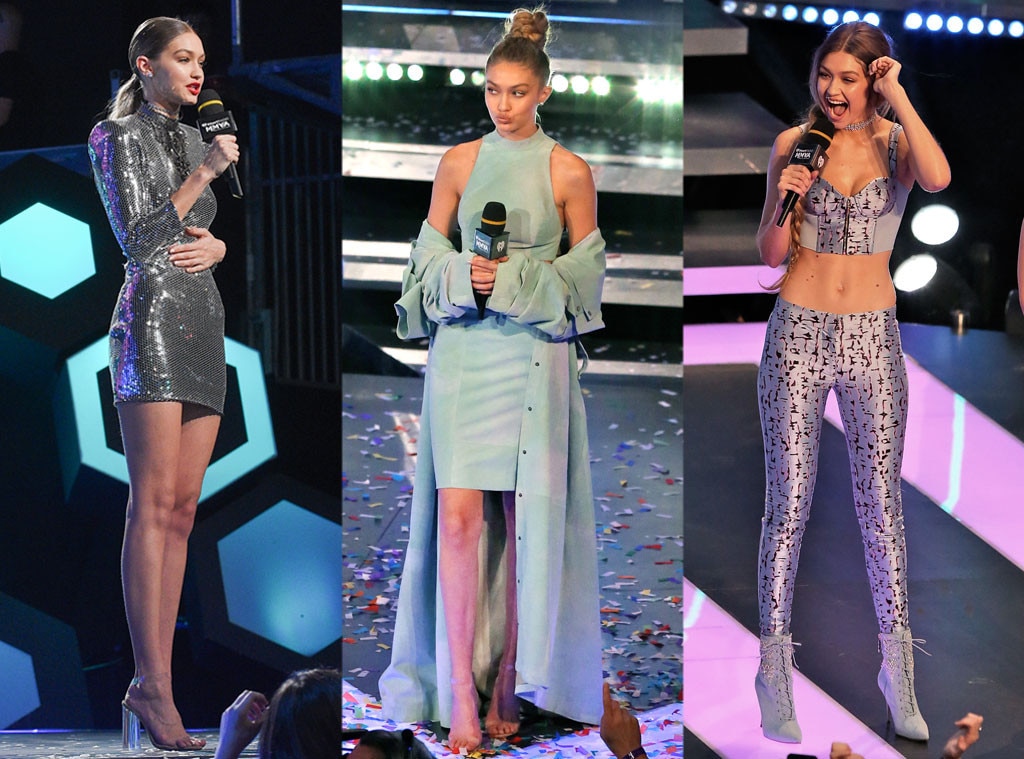 Ernesto Distefano/Getty Images, S Fernandez / Splash News
Gigi Hadid is about to take over the 2016 American Music Awards as this year's co-host alongside Jay Pharoah on Sunday, and i can't wait to see what's in store.

Not only am i excited for the knee-slapping jokes and the sarcastic banter that's sure to come with the dynamic duo, but i am also excited to see what Gigi decides to wear.
When she hosted the Much Music Awards in June, she made our mouths drop with six—yes, six—incredible styles that ranged from a pantsuit to teeny-tiny dresses to skin-tight rompers.
Check 'em all out below!
Hadid hit the red carpet in a fierce, red pantsuit with slits, tying her hair in a loose bun and letting her layers frame her face.
An awards show wouldn't complete without one, disco-ball dress—especially one that shows off dem legs like this! Hadid paired the long-sleeved silver sequin mini with a sleek ponytail, studs and bright lips.
The supermodel also donned a more reserved look that was still super chic, wearing this minty-fresh shift dress with a matching duster coat.
Opting for a more edgy style reminiscent of her athletic taste, Hadid wore this two-piece patterned metallic getup, which included leggings and teeny-tiny corset crop top.
She looked super sexy in this skin-tight romper (which was more reminiscent of a leotard) along with knee-high black boots.
Our favorite look she rocked at the Much Music Awards was this Michael Jackson-esq ensemble: a a long, white low-cut tuxedo jacket adorned with gold embellishments over matching cigarette pants and gold heels. It was everything!
The 2016 American Music Awards will go live Nov. 20 at 8 p.m. on ABC.