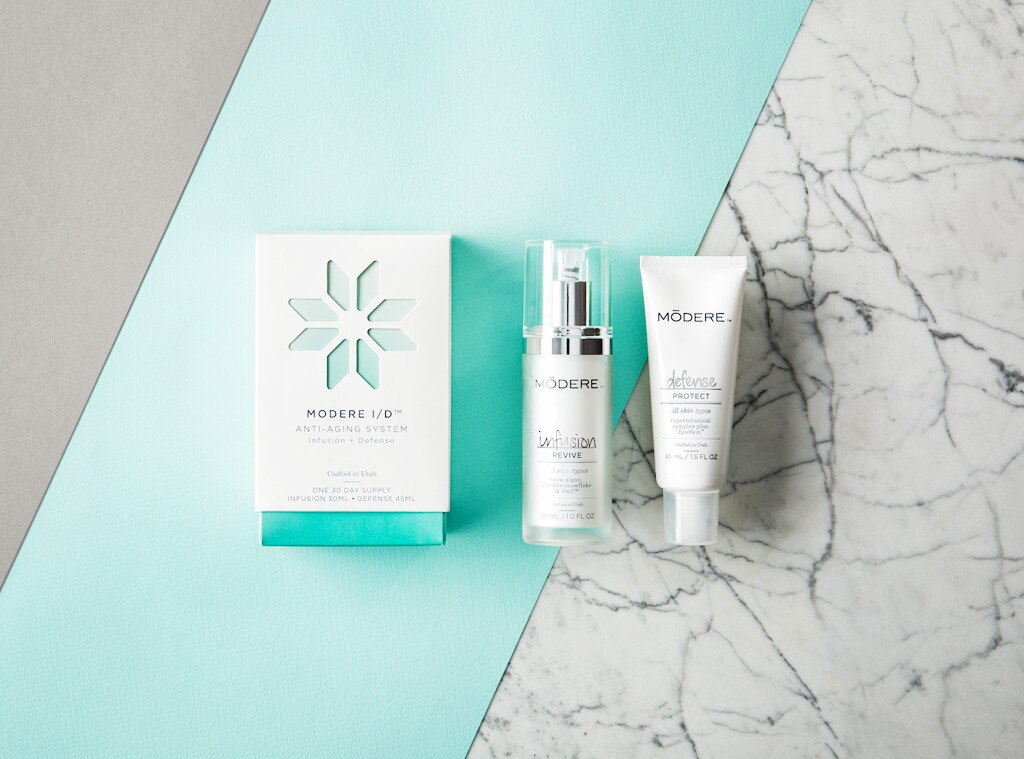 Welcome to fall—a.k.a. the time of year when your skin is flaky, dull and at its most stubborn.
Before you reach for a heavy-duty moisturizer, though, give an oxygen-treatment product a try. Unfamiliar with this science? That's where skin-care line Modere (tried and tested by stars like Whitney Port, Kristin Chenoweth, Ali Laundry and Derek Hough) comes in.

The brand's staple product, the Modere I/D Anti-Aging System, is a dual-action system formulated in Utah. It's not quite a moisturizer and not quite a cleanser. In fact, it's an extra skin-care step you're likely skipping. But we've tested it and now we're calling it: It's worth it. Intrigued? Here's why celebs swear by it.
For starters, it's safe. It's made of non-toxic, natural ingredients like botanicals, antioxidants and probiotics. It's one part oxygenating gel (which releases little bubbles on your skin) and one part environmental skin shield (to protect skin from pollution, dirt, etc.). You apply the products in between your cleanse and moisture steps, and the oxygen activates your skin, allowing all of your products to go deeper and work better. In other words: Adios, flaky, dehydrated winter skin.
Start by cleansing your skin as usual, then pat on Modere's Infusion Revive, which will start to tingle and foam up almost immediately—it feels like Pop Rocks skipping across your face. That tingling sensation is the Ox3 infusion (just a fancy way of saying oxygen treatment) at work. Other cooling ingredients like snow algae and snowflakes (yes, snowflakes!), which thrive in sub-zero conditions, preserve the moisture in your face. Let the bubbling formula sit for five minutes until it gets tacky and then wash it off with a warm washcloth. At this point, your skin will feel plumped up, hydrated and baby-bottom soft.
Next, it's time to feed the skin with the second step: the Modere Defense Protect. Remember how the oxygenation process just opened your pores? It's the reason this calming gel, which contains 15 botanical extracts (like dandelion extract) is about to be that much more effective. It will feel extra-absorbent seeping into your skin, delivering that deep-level hydration you're after. It's chock-full of good bacteria, too, which supports your skin's natural defense system against free radicals and pollutants. The result: a more even skin tone, less wrinkles and a blemish-free complexion for you!
And don't worry: Consider flaky skin a non-issue, too.
Simply follow up with an SPF during the day or a moisturizing night cream at night.
There you have it: winter skin at its finest.
Modere I/D Anti-Aging System, $129.99