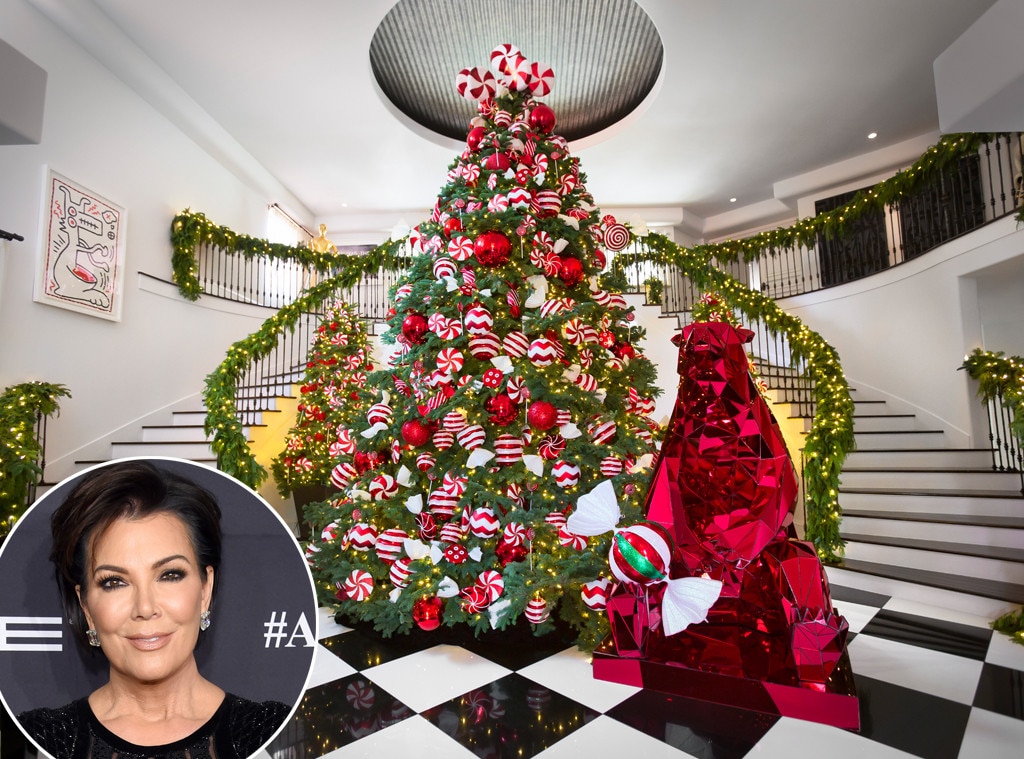 Kris Jenner's "Kandyland" is a Christmas dream come true!
The Kardashian momager took Architectural Digest on a tour of her home and how she worked with Los Angeles-based floral designer, Jeff Leatham, to transform it for the holidays. This year, Kris opted for a candy theme, stemming from her decorations for the massive tree in her entry way, which features peppermints, red and white swirled ornaments and big red fixtures.The tree itself takes several days to get together—almost 24 hours of which are dedicated to the lighting alone—but then Leatham also comes in to decorate the rest of Kris' home, including her beautiful, winter white living room as well as her table.
The table is obviously incredibly important as that's where the huge reality TV family with gather for the holidays. This year, Kris opted for plaid prints with gold accents.
"I enjoy looking at my dishes and bringing everything out because it means it's the holidays," she explained. "This year, I went with plaid. Plaid is very traditional and it reminds me of being in the mountains. It's very Tommy Hilfiger or Ralph Lauren. So I mixed the plaid with snowmen this year. I found these great snowmen plates, and they look so good together! But then I really added the glam factor with these gorgeous Christofle eggs... I did the gold with the plaid because I thought it was so dramatic."
You can find the eggs, which go for anywhere from $1,900 to $1,500, can be purchased right at Bloomingdale's.
But as for Kris' favorite piece in Kandyland, she says it's the gorgeous, red bear that sits beside her Christmas tree. "We've never had one of these in the United States," Leatham told the publication, explaining how he bought the bear from an artist in Paris. "They're actual pieces of art."
Kris added, "Jeff is very famous for these amazing, magical animals...Mason decided it's a boy, and his name is Christmas."




Kris also mentioned that Leatham is in charge of decorating all of her kids' houses for Christmas as well. In fact, she noted that he helped with Khloe Kardashian's house in Cleveland, which is where her current boyfriend, Tristan Thompson, lives!
Kylie Jenner and Kourtney Kardashian have also been busy showing off their decorated homes for the season. While Kylie went with a snow-white theme with silver ornaments, while Kourtney went for a more traditional tree with white ornaments and black and white presents underneath.




Kim Kardashian also made a quick return to social media in one of Jonathan Cheban's snapchats last week, which revealed her tree. In the snap, Cheban shows the green tree completely covered with white branches and lights, standing so tall it's comparable to the one that stands in Rockefeller Center.
Though Kim didn't physically appear in the video, she can be heard in the background. "Isn't it insane?" she asks him. "Just lights, no ornaments."
We can't wait to see what else the famous family has in store for us this season!