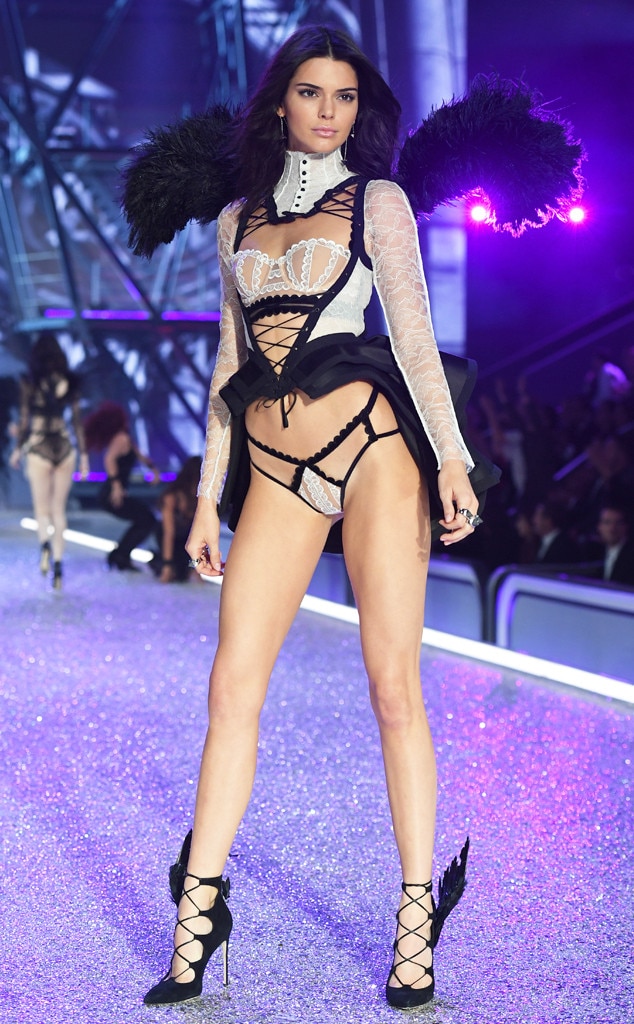 Are you ready?!
Tonight is the annual Victoria's Secret Fashion Show, where you'll be able to watch your favorite models strut their stuff in the tiniest of outfits. Lady Gaga, Bruno Mars and The Weekndprovided the musical entertainment, which means tonight's highly anticipated show will be incredibly entertaining. In honor of the lingerie giant's famous annual event, I am giving you a sneak peek at five of the sexiest looks from the big event. Whether the models are walking in minimal underwear and strappy bras or are merely showcasing their elaborate wings, these women know how to rock a runway. Take a look at some of tonight's hottest looks:




1. Gigi Hadid: The blond bombshell absolutely worked this strappy number even after suffering a wardrobe malfunction. Wearing thigh-high, lace-up boots, Gigi stunned in her all-black ensemble.



2. Kendall Jenner: The Keeping Up With the Kardashians star appeared somewhat covered up in this outfit (at least in comparison to some of the other pieces of lingerie), but still made it look as tantalizing as some of the models' skimpiest looks. With the wings on her back and shoes, it's no wonder Kendall didn't fly away with the other Angels.



3. Devon Windsor: This bejeweled number, while probably impractical, is one of the sexiest looks on the runway. Windsor looks gorgeous in her red and beige pieces while somehow managing to wear the elaborate display on her back.



4. Cindy Bruna: With her arms in sleeves and her torso somewhat covered, Bruna tastefully leaves plenty to the imagination while teasing just enough.



5. Jasmine Tookes: Is there anything sexier than wearing the 2016 Fantasy Bra?! Valued at around $3 million, the VS Fantasy Bra took nearly 700 hours to create. It's adorned with nearly 9,000 precious gemstones and weighs more than 450 carats, with diamonds and emeralds in 18-karat gold.
The Victoria's Secret Fashion Show 2016 airs tonight at 10/9c on CBS.