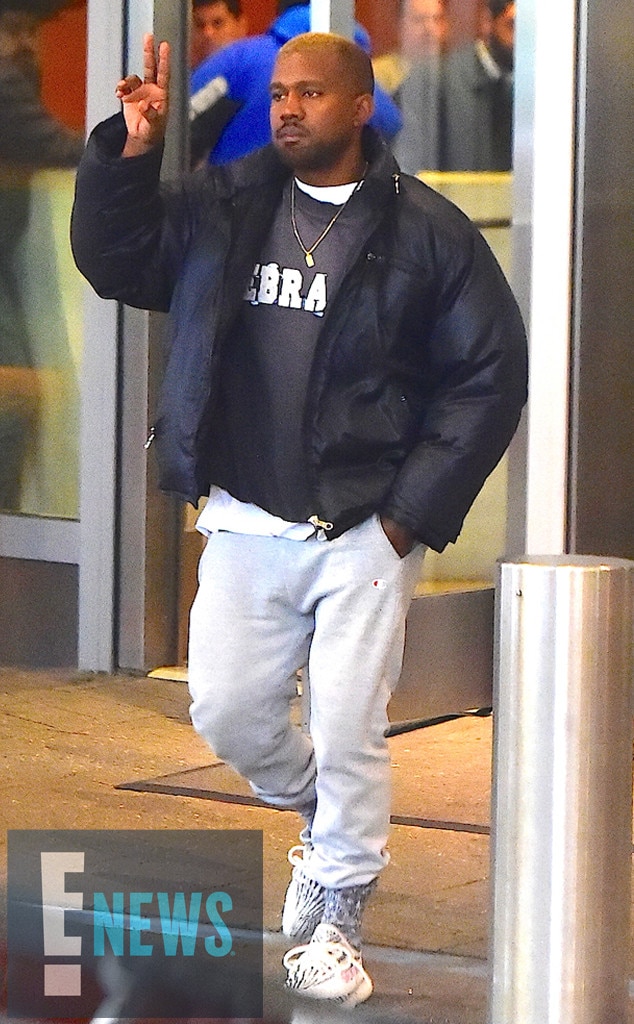 247PAPS.TV / Splash News
Kanye West is back in the Big Apple amid speculation that the rapper could be returning to the stage in a matter of weeks.
In pictures obtained exclusively by E! News, the man behind "Fade," "Stronger" and other hits was spotted arriving in New York City Monday morning after flying with Kris Jenner's boyfriend Corey Gamble.

When stepping out of the Waldorf Astoria hotel, Kanye was wearing gray sweatpants with a matching hoodie and a dark windbreaker jacket ideal for the city's cold temperatures. As for that blond hair, fans may recognize it from his public appearance last week at MOCA's Pacific Design Center near West Hollywood.
An eyewitness told E! News that in the afternoon, the music performer traveled to an apartment building in the Financial District where he stayed for about one hour.
During his visit to New York, Kanye was also spotted visiting a recording studio as he flashed the peace sign to fans.
Just last week, E! News learned that the rapper is working on music as he recovers from his week-long hospitalization last month.
And while rumors circulated over the weekend that Kanye may be heading back on the road this January to perform for thousands of fans, multiple sources tell E! News that it's simply not true.
"Kanye wants to finish the tour. He loves his show," a tour source shared with E! News. "He wants everyone in the world to see it."
Our insider added that resuming the Saint Pablo Tour in January is "doubtful" due to scheduling and reissuing issues but added that the performer is "doing much better."
Back in November, Kanye abruptly canceled his world tour after a string of erratic behavior at several concerts such as showing up late, ranting about celebrities and more. He would later voluntarily admit himself into the UCLA Medical Center for exhaustion.
Kanye "will remain getting outpatient treatment till he is fully recovered," a source previously told E! News. "Kim Kardashian wants him to continue getting therapy even after all of this. He has support from so many."
"Kim is doing okay despite reports," our source added. "She has many things on her plate so being overwhelmed is expected. She wants to get Kanye back on his feet. She is not leaving him. She loves him."
—Reporting by Ken Baker