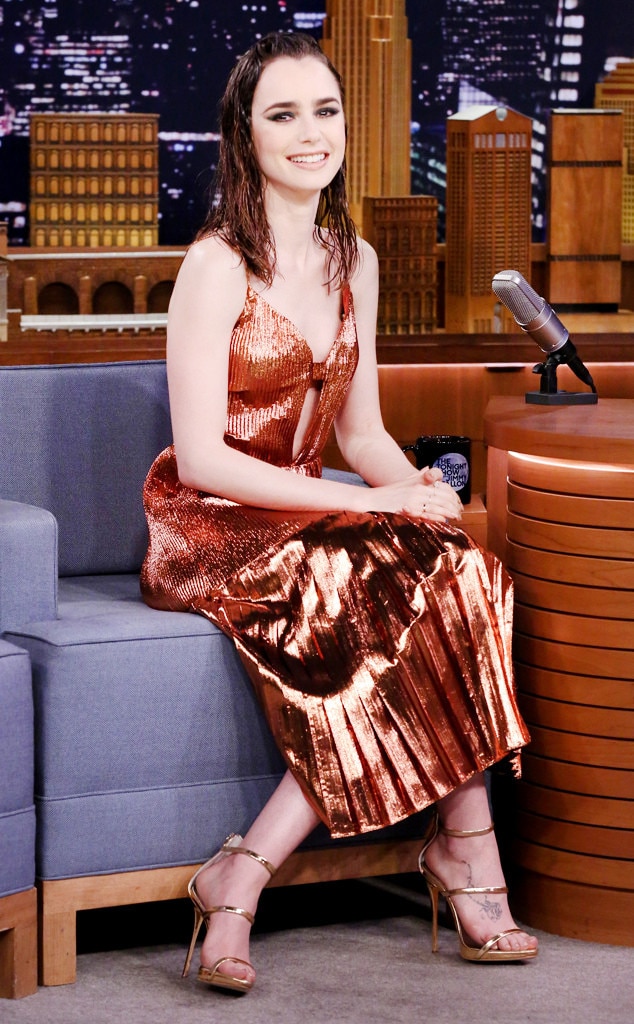 The wet hair look just got wetter. (Sorry!)
Last year, stars like Ashley Graham hit the red carpet in a wet hair look that was more of an I-just-ran-through-the-rain-while-it-was-drizzling kind of 'do. This year, Lily Collins,Kim Kardashian,Khloe Kardashian and their hairstylists have reinvented it to be, well, a touch more literal—resembling what you could only imagine it would look like had you just freshly been caught in a torrential downpour.

For Lily's latest appearance on The Tonight Show Starring Jimmy Fallon, hair master DJ Quintero took her usual naturally wavy bob and doused it with product for results we can't wait to try and recreate.
KKW and hairstylist Chris Appleton went full rainstorm with long, wet locks for the launch of her new beauty line. It couldn't have looked edgier. And where Lily went with a side-swept part, Kim kept hers smack-dab in the middle making an even stronger case for the impact.
Khloe then joined the rained-out gang when hairstylist Justine Marjan gave her the similar look to attend a friend's birthday dinner. On her basically-blonde locks the style was a huge hit, adding major drama to an already dramatic 'do.
While i wish the hairstyle involved a simple quick rinse, a hefty amount of soft gel or conditioning mousse, a hair-dryer and diffuser are probable musts for creating this look. That said, it's the perfect summer trend because who doesn't want to look like they've just emerged from a pool?
So, what do you think of the wet hair look 2.0?