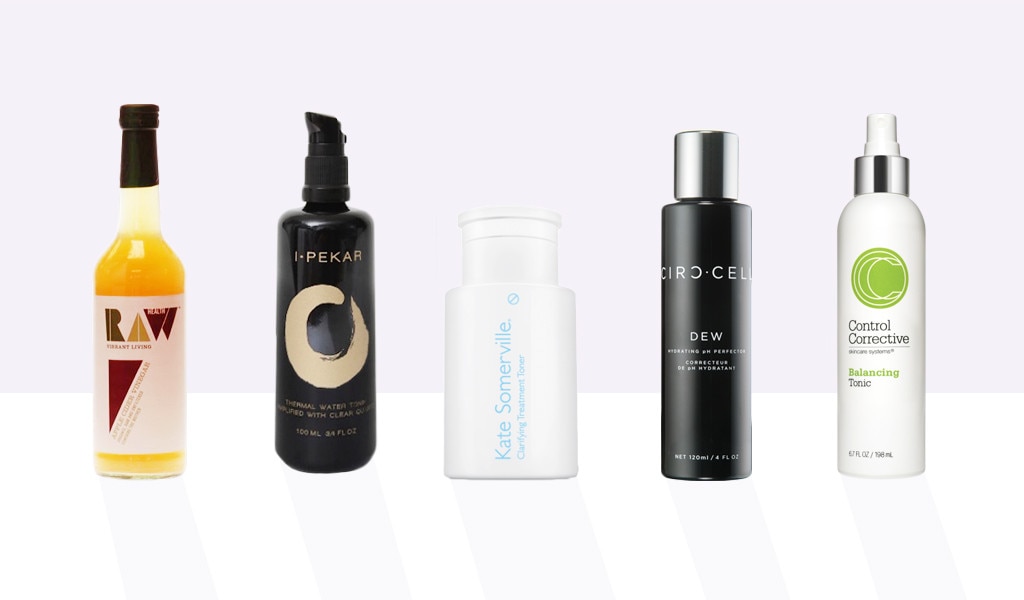 When it comes to facial toner: Should you or shouldn't you?
It's a good question and to find out, once and for all, we asked the pros in charge of famous faces like Vanessa Hudgens, Emma Roberts Jessica Albaand more. The verdict: Using a toner is a go, but not all toners are created equal.
The celeb experts unanimously agree that alcohol-based astringents always do more harm than good. To keep skin healthy and hydrated this winter (and always), steer clear of any formulas that contain, not only alcohol but fragrance, sulfates, glycerin and harsh chemicals. Look for ingredients like rose, jojoba, Witch Hazel, coconut water, aloe vera, sage, rosemary—anything that calms and rehydrates. Simply put: The more natural, the better.
For specific toner recommendations and insider tips from the best in the business, keep reading!
Expert: Kate Somerville
Celeb Clients: Anna Kendrick, Vanessa Hudgens, Taraji P. Hensen, Elizabeth Olsen, Olivia Culpo, Ruby Rose
The Verdict: "I think toner is a waste of a step unless it contains ingredients that deliver additional skin-care benefits, like acne-fighting ingredients. My Clarifying Treatment Toner has Witch Hazel, a natural astringent and Phytic Acid, which helps to exfoliate," shared the pro. "If you're not acne-prone, it's better to replace toner with a serum. Cleanse, apply serum, moisturize, SPF and go," she added.
Expert: Gina Mari
Celeb Clients: Lori Loughlin, Famke Janssen
The Verdict: "If you pick the appropriate toner for your skin, it's a game changer. Many on the market are very calming, nourishing and leave skin glowing. I love using Circ Cell's DEW pH Perfector because it hydrates, calms and balances skin," noted the pro.
Expert: Joanna Vargas
Celeb Clients: Julianne Moore, Emma Roberts
The Verdict: "I would only use organic toner and I would stick to things that don't over-dry or over-strip the skin of natural oils. Stripping the skin will result in more oil being produced. A great at-home toner for anyone's skin is raw apple cider vinegar. It's a great tool because it will help to keep oil production in check while being anti-bacterial and anti-inflammatory," she said.
Expert: Ildi Pekar
Celeb Clients: Irina Shayk, Miranda Kerr, Lindsay Ellingson
The Verdict: "I recommend to use a toner in the morning instead of a face wash so you aren't stripping your natural oils," said the pro. For the job, she recommended her I PEKAR Hungarian Thermal Water Tonik, which has all the ingredients the skin craves and can address multiple issue such as acne, inflammation, dull, dry, oily, irritated and even sensitive skin. "You can even use this at night as a second cleansing step or you can refresh your skin after a workout with this toner," she advised.
Expert: Shani Darden
Celeb Clients: Jessica Alba, Rosie Huntington-Whiteley, Chrissy Teigen
The Verdict: "I love a toner as long as it's suited for your skin type. I recommend my clients use a calming, hydrating toner, as other products they use have very active ingredients. You don't want to use anything that will be too harsh on your skin or too drying," advised the pro, who loves to use Control Corrective's Balancing Toner on her celeb clients.