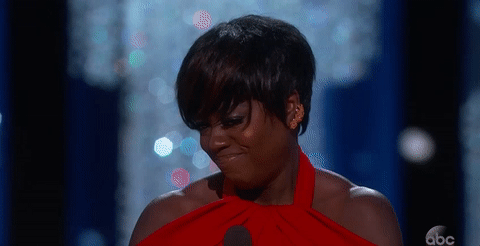 Grab the tissues...Viola Davis just delivered one hell of an acceptance speech and rightfully so!
The Fences actress was honored with her very first Academy Award for Best Supporting Actress at the 2017 Oscars, taking the win over a strong list of nominees, including: Naomie Harris for Moonlight, Nicole Kidman for Lion, Octavia Spencer for Hidden Figures and Michelle Williams for Manchester by the Sea.
As expected, Davis gave an emotional, heartfelt speech.
"Thank you to the academy," she began. "You know, there's one place that all the people with the people with the greatest potential are gathered, one place and that's the graveyard. People ask me all the time, 'What kind of stories do you want to tell, Viola?' And I say, 'Exhume those bodies. Exhume those stories. The stories of the people who dreamed big and never saw those dreams to fruition. People who fell in love and lost.'"
She continued, "I became an artist and thank God I did because we are the only profession that celebrates what it means to live a life. So, here's to August Wilson, who

exhumed and exalted the ordinary

people."


She went on to thank several more members of the film's cast and crew, including her "captain" Denzel Washington.
Davis also made sure to thank her parents, noting they taught her "good or bad, how to fail, how to love, how to hold, how to lose."
Finally, she couldn't end her speech without one, final shout out: "My husband [Julius Tennan] and my daughter—my heart, you and Genesis. You teach me every day how to live, how to love. I'm so glad that you are the foundation of my life. Thank you to the academy. Thank you."
Many of Davis' famous friends and colleagues were incredibly excited over her Oscars win, taking to Twitter to express their happiness.
While Jessica Chastain tweeted, "It's about damn time," Matthew McGorry noted that this was "so incredible and well deserved."
Oprah also took a moment to praise the actress, writing, "Hallelujerrrrrrr! @violadavis!"



Davis' Oscar win makes her the very first black actor to win an Oscar, an Emmy and a Tony for acting.
Congratulations again and again to the Fences star!