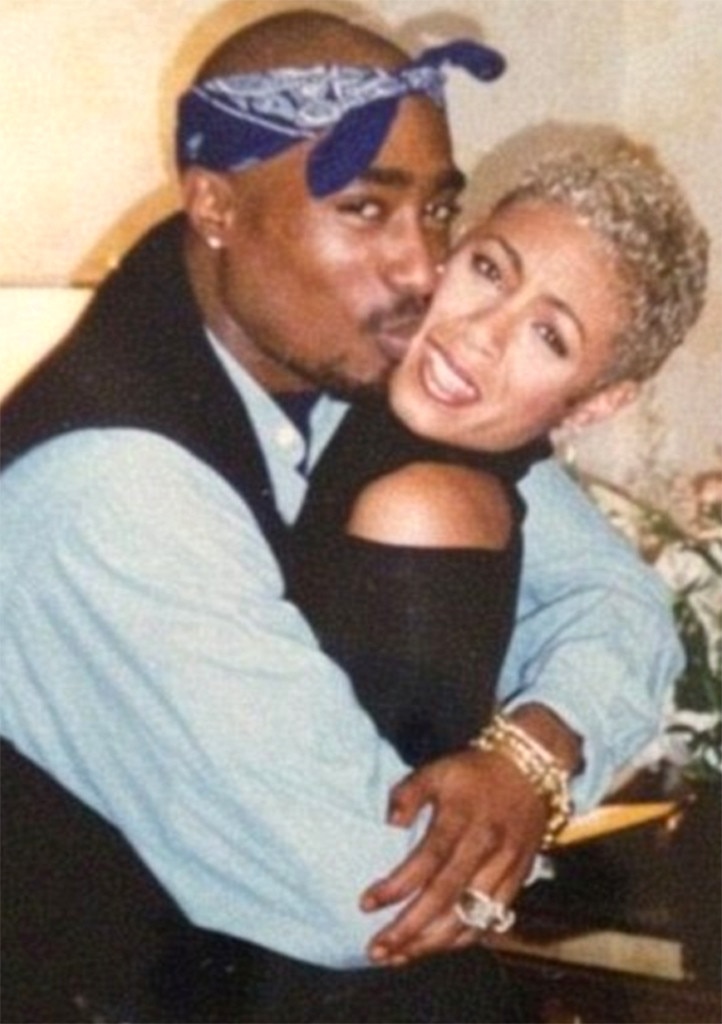 Jada Pinkett Smith is not happy with the way her relationship to Tupac Shakur is depicted in the new biopic about the late iconic rapper, All Eyez on Me.
The two were close friends while attending high school at the Baltimore School for the Arts.
The rapper was shot dead in a drive-by shooting in 1996. He was 25. Demetrius Shipp Jr. plays the rapper in the All Eyez on Me film, while The Vampire Diaries' Kat Graham plays Jada. The movie was released Friday on would have been Tupac's 46th birthday.
"Forgive me... my relationship to Pac is too precious to me for the scenes in All Eyez On Me to stand as truth," Jada tweeted Friday. "The reimagining of my relationship to Pac has been deeply hurtful."
"To @KatGraham and @Dshippjr this is no fault of yours. Thank you for bringing so much heart and spirit to your roles," she said. "You both did a beautiful job with what you were given. Thank you both."
The actress pointed out several inaccuracies in the biopic. In one scene, Tupac reads a poem to Jada before he moves to California to concentrate on a music career.
Jada had opened up about her and Tupac's relationship on The Howard Stern Show in 2015.
"I think it's so funny, 'cause now, being older, I have more of an understanding of what that was between us because, you know, when you have two young people who have very strong feelings but there's no physical chemistry between us at all...there was a time where I was like, 'Just kiss me, let's just see how this goes.' And when I tell you, it had to be the most disgusting kiss for us both."
"The only way I can put it just the higher power just did not want that because I feel as though if Pac and I had any kind of sexual chemistry, we might have killed each other because we were both so passionate and we love deeply," she said. "It was hard enough just with us being friends. We had a very volatile relationship."
Jada said she and Tupac would have "very intense conversations" and at one point had a "very hardcore disagreement," in which she did not agree "with the direction he was taking in his life.
In the '90s, the rapper was arrested several times and served eight months in prison for a sexual abuse conviction. After he was freed, Tupac released his hit All Eyez on Me album, which contained his such as the radio-friendly "California Love." The record also contained tracks with lyrics in which he threatened his enemies.
"I just told him that it was a destructive direction, a very scary direction, and he felt as though I had changed, I'd gone Hollywood, I'd gone soft," Jada told Howard Stern. "And I understood all that. And looking back now, I totally understand where Pac was, 'cause at that particular point in time, that mentality was part of his survival for that moment and it was actually a mentality he started to come out of before he was murdered."
"I felt just sadness for not having the opportunity to tell him that I loved him. But I know he knew that," Jada said, getting emotional. "It definitely taught me a lesson, which is, life is too short—do not let disagreements stand in between you and people that you love and care about."