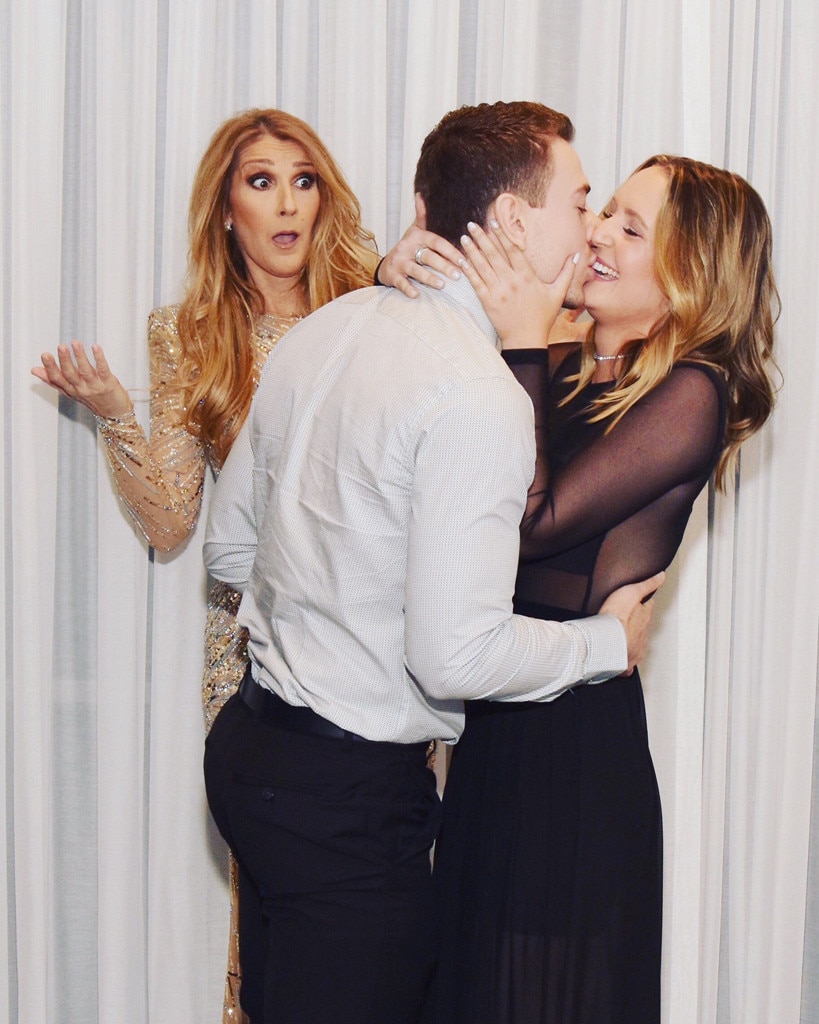 When Céline Dion sees the Power of Love firsthand, she's not sure how to react.
The music icon recently received the surprise of a lifetime when a proposal went down right in front of her, and her reaction is absolutely amazing.

During Celine's pre-concert meet-and-greet last Friday at Caesar's Palace in Las Vegas, Austin McMillian's now-fiancé Nick Janevski, unbeknownst to the bride-to-be and especially Celine, asked his ladylove to marry him,.
McMillian shared all the details with E! News about a moment she won't soon forget: "After the first photo with [Celine], he got down on one knee and asked me to marry him."
"I was shocked and couldn't get any words out so Celine backed up into the curtain behind us and said, 'Are you going to say yes?'" she added.
Courtesy Austin McMillan/Gordon Vukovic
Of course, Austin (not ready to disappoint her favorite artist) said yes, and in an Instagram post reminiscing about the engagement, she expressed her complete joy.
"There are no words to describe this moment!" she captioned a photo of the trio. "what i thought was just going to be a special night seeing my favorite performer turned out to be a night filled with so much happiness, surprise & celebration with everyone we love & even ended with donuts and ice cream so idk how it could get better!"
"i get to marry the man of my dreams & grow old with my best friend God's timing is so perfect. nothing could be better than this!!" the post continued.
As for how Nick planned the proposal, Austin told E! News," My boyfriend knew I loved Celine and he knew someone on her team who could help him decide this plan, but I had no idea is was coming. He told my mom the whole plan months before but I was completely unaware."
Aww!
And as it turns out, Austin and Nick might have a wedding singer more than willing to perform at their nuptials. "Celine was shocked," McMillian gushed. "She was super sweet and wished us a long and happy marriage like she had with her husband and then invited herself to the wedding!"
Congratulations, you two!