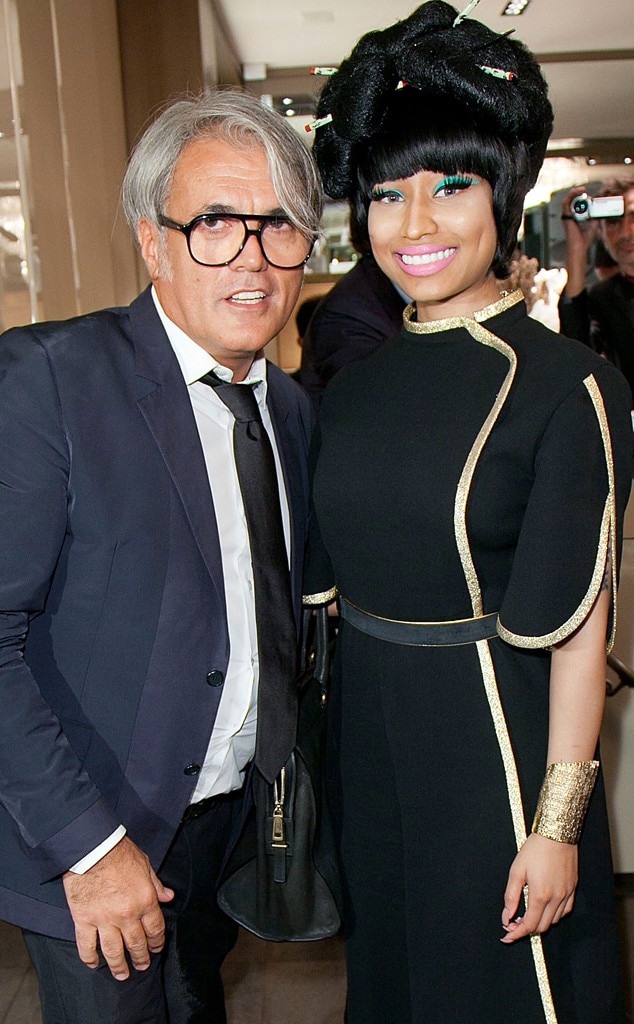 Shoe designer Giuseppe Zanotti can now join Miley Cyrus on Nicki Minaj's list.
The rapper has for years worn footwear by the Italian footwear designer, has quoted his name in her lyrics and says he told her she inspired his "Nicki" shoe designs. Most of the brand's products for women bear female first names.

Nicki, who does not own trademark rights over her own, which is part of her stage name, has never officially collaborated with Zanotti on a collection and she wants to change that. But she says his reps aren't taking her people's calls. Zanotti and his company have not commented.
Nicki unleashed rants against the designer on Twitter and Instagram Friday, in which she accused him of racism.
"This is wonderful. #GiuseppeZanotti seems to think it's ok to name his sneakers after me but his PR says they won't take our call. Lol," Minaj wrote.
"I met #GiuseppeZanotti years ago," she continued. "At which time, he told me I inspired him to design a sneaker in my honor. Wore them on the cover of Cosmo. Recently when he gave other artists capsule collections, my agency reached out and was told they're not taking our call. Just go on Google, you'll see all the different pairs he's named after me. Lil black girl can inspire u but ain't worth a collection my n--?"
"RunMeMyCHECK #GiuseppeWhatsGood I got time today," Nicki said. "Barbz trend this cuz he gon learn today. The racism & disrespect won't b tolerated."
Indeed, "#GiuseppeWhatsGood" did trend on Twitter moments after she posted her tweet. Nicki had famously asked Cyrus "What's Good?" while speaking onstage at the 2015 MTV VMAs, following negative remarks the pop star had made about her in a New York Times interview.
"Don't care about the money," Nicki added on Twitter. "It's just the disrespect. You're not taking MY call? Lol. Give some money to charity in my name or smthn."
Zanotti has collaborated with stars such as Jennifer Lopez and Zayn Malik on shoe collections. In a 2015 interview with Footwear News magazine, the designer said, "I love a lot of celebrities, especially from the music world: Beyoncé, Rihanna, Nicki Minaj, Alicia Keys and Kanye West. They are style icons and have great talent. Their music entwines with art and entertainment, so they can be inspirational for a designer."
"Dear @giuseppezanottidesign #RunMeMyCHECK your PR must've fell & bumped their head when they told my agency they weren't discussing anything with us. I'm giving you 24 hours. #GiuseppeWhatsGood," Nicki wrote on Instagram. "So tired of ppl taking my kindness for weakness. Free @giuseppezanottidesign read your comments then hit up your accountant my n--. U not takin WHO call sir?????"
She also posted a photo of her and Zanotti hugging at his New York City boutique in 2011.
"Aww look how cute he was the day he showed me the sneaker he made in my honor," she wrote.
"U know what I gotta go," Minaj later tweeted. "My phone ringing. Tell Floyd, Fif & Mike Tyson to book me for the next fight. Me and Giuseppe. after cb & Draco."
Beauties, do you think Nicki Minaj deserves a check for the sneaker inspiration?