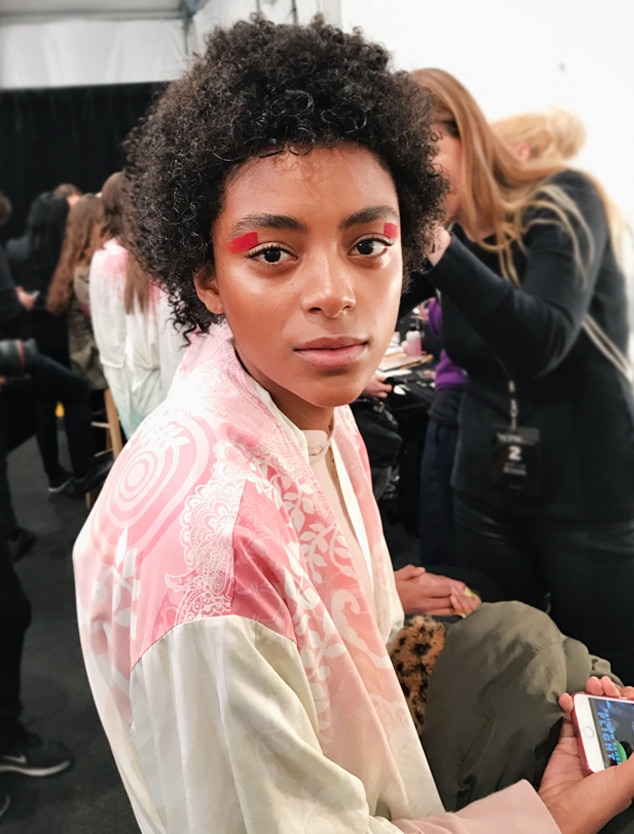 Since love of strobing went public, it's evolved. Big time.
Just ask
Victor Cembellin
,
MAC Cosmetics
senior artist
for the
Desigual fall 2017 runway. The makeup pro shared a new light-capturing product worth investing in—and it's not highlighter or concealer.
"Makeup's become a kind of accessory, so it's almost like there are new rules." And with new rules, come new beauty tricks, meaning it's time to ditch your typical blush.
"Because we're really into strobing right now, we used a new, not-yet-released MAC strobing blush and applied it to the high apples of the cheeks," noted the expert. "That way, when the girls turn as they're walking down the runway it gives them this super-plasticized skin look."
Can't wait for this product to drop? Marc Jacobs Beauty has a blush that contours as well.
Not sure what to pair this look with? Victor's got you covered.
"The idea of the whole makeup look was just fresh girls that have this young, urban statement eye," explained the pro.
However, the graphic shadow done for the show is a little too avant-garde for everyday wear. "To take the overall beauty from runway to regular-way—I would just do a red liner," claimed the artist. "When you do it all blended, it can look like you have raw, red-set eyes, but if you keep the liner tight using something like the Basic Red Chromaline (which was the hero product we used for the show) and just do a really amazing winged '50s liner with a nice coat of red mascara, that's a look that kills."
And you're welcome.