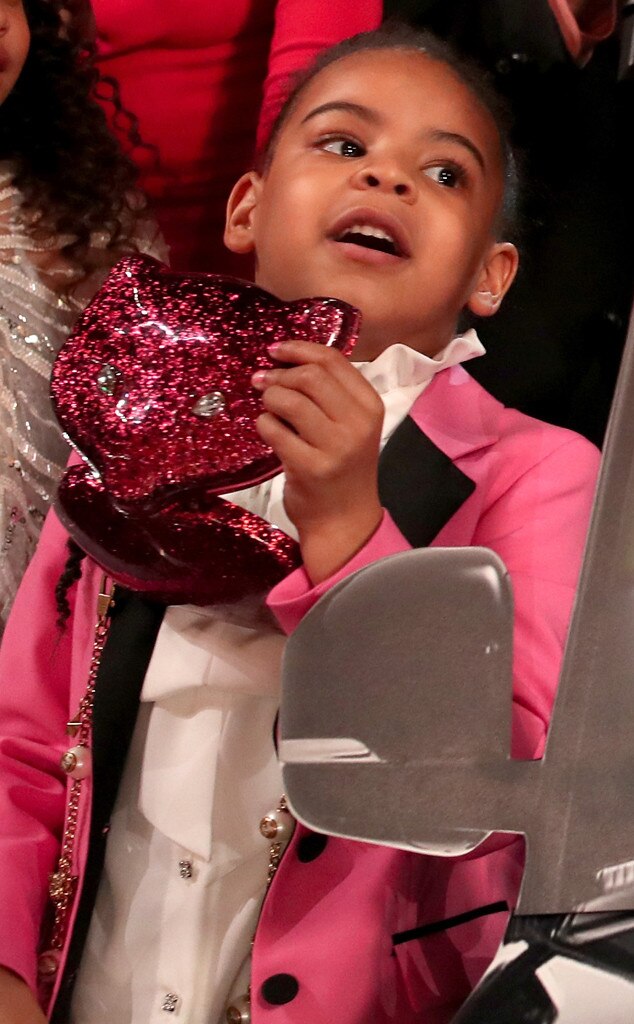 In the words of Beyoncé, don't hurt yourself...with this purchase.Fortunately, when you're the daughter of music royalty, virtually everything is in reach, including adorable cat purses with hefty price tags. During the 2017 Grammy Awards Sunday night, Bey and Jay Z's daughter (and soon to be big sister) Blue Ivy Carter enjoyed an evening out on the town with the industry's heaviest hitters. Clad in a pink suit and ruffled blouse, the 5-year-old tot came dressed as musical royalty while channeling the late Prince, but it was her adorable pink feline purse that reminded everyone Blue is still a little lady—a little lady with a very grown-up budget.

The glitter plexiglass clutch was designed by Gucci and featured crystal eyes and glass pearl and feline charms along its chain strap. The kid-friendly tote reportedly came with a $2,490 price tag, but even if you were willing to part with roughly $2,500, the purse is unfortunately no longer available.
Luckily, for those fashionistas looking for a bit of a bargain, it's still up for grabs on The Real Real, a digital consignment shop, for $1,895. It's not quite what we'd call a steal, but it's a discount nonetheless. Price aside, Blue appeared to be very fond of the accessory as she played with it throughout the night, opening and closing it in front of cameras to reveal there was nothing actually inside. She is five after all.
A future fashion icon, Blue has already started to show a preference for some designers, including Gucci, which she has sported on previous occasions. In one snap on her mother's Instagram account, Blue and Bey accessorized with a coordinating clutch and tote from the label and fans applauded the youngster's impressive taste.
When she's not sporting the signature G's, Blue still sticks to high-end labels with equally high price tags, including the Mischka Aoki "Grande Royalle" dress she wore to the 2016 Video Music Awards. The ensemble, which featured a laser-cut bodice and intricate 3-D gold metallic appliqué, rang in at $10,950.



In their famous family, fashion is priceless. If only we could all be a Carter.