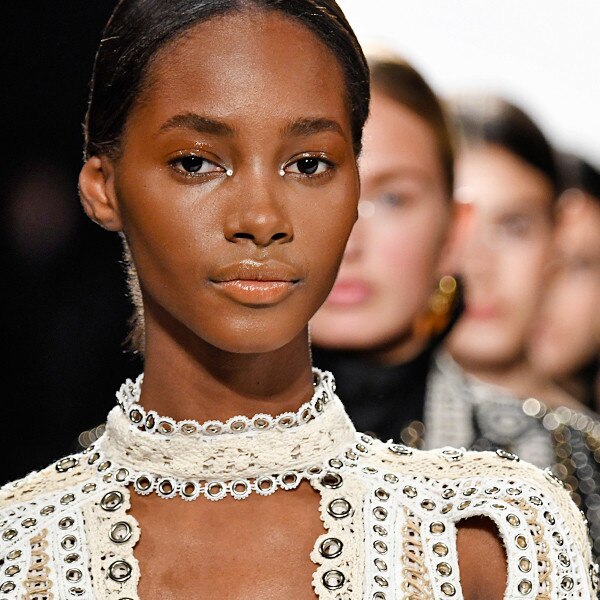 It looks glamorous but a day working the New York Fashion Week circuit can be pretty grueling, too.


When you're running from one runway show to the next, are constantly under intense lighting and weathering the snowy weather, just few hours can wreak havoc on a beauty look. When life's busy as heck

, how do you get that softly glowing foundation, smooth lipstick and perfectly blown-out hair?


Fashion week veteran Morgan Stewart, to the rescue!
"My face is the most difficult part about me...aside from me actually," said the Rich Kids of Beverly Hills star.
The best way to keep your foundation lasting throughout the day is to avoid using too much product, especially if you are prone to oily skin. The star explained, "I use a light brush, I dab it and then hit it on the side of the compact, and I just use the powder where it's necessary." In case you're wondering, Morgan uses Chanel Healthy Glow Sheer Colour in Les Beiges for a sheer, luminous result.
Any style stars knows you can't wear the same look to two events. What's the easiest way to change things up, without an outfit transformation? Swap out your lip color. Just be sure to start with a clean slate. "I just take a paper towel...and dampen it, and I take my lipstick off with that, so everything is taken off before I put on a new color," noted Morgan. It's all about Charlotte Tilbury K.I.S.S.I.N.G. lipstick in Penelope Pink...until it's not.
Last fashion rule of thumb: Less is more, especially when it comes to NYFW hair. Keep things effortless-looking, without using much product or heat. "If [my hair is] starting to fall really flat, I'll tie it up in a bun for a little bit. And then leave it for 15 minutes and then take it out. Just kind of undone and messy."
You'll be amazed by how easy it is to touch up your look in just a few minutes, whether it's in between runway shows or from the grocery store to the dry cleaner.