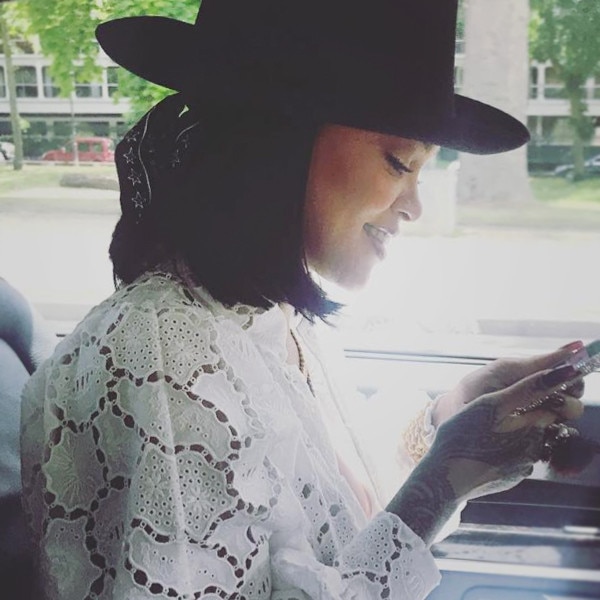 Behind every BadGal is an equally creative and talented glam squad.
The queen of 2017 Met Gala, street-style killa, designer, award-winning singer, philanthropist and actress known as Rihanna has relied on her trusted hairstylist Yusef Williams for years. He travels with her on world tours and creates most of her epic red carpet looks. One of his favorite hair inventions: the faux bob.
The beauty pro calls the temporary short hair look one of the best tricks he created during Paris Fashion Week. "The wonderful thing about doing faux looks is that you don't have to commit," he told E! News.

Want the look? Watch the tutorial above and follow the steps below:
Step 1: Add texture to your hair using a large barrel curling iron. If you have fine hair, spray with dry shampoo to thicken.
Step 2: Section off your hair, from the left ear over to the right ear, and pin it up.
Step 3: Braid the back section in a zigzag pattern, pinning the ends. Or, you can split it into two sections and twist each section into a small bun.
Step 4: Brush top section down.
Step 5: Backcomb and tease your hair to add shape and dimension.
Step 6: Split the top half into two sections and coil each section around two fingers.
Step 7: Anchor your coiled hair into the base braids using strong bobby pins.
Step 8: Pull hairs out from the top for a more imperfect look.
Step 9: Accessorize with gold bobby pins.
Step 10: Set the style with hair spray.
Most people aren't as daring as the songstress (which is why she's a trendsetter). But, Yusef has a tip if you want to reach Rihanna-level hair: "I think it's always a good idea to do things in your own space, try things out in your own space," he suggested. "When clients come to my salon and say, 'I want short hair,' I whip out a short wig and say 'This is what you're going to look like. Can you own this?'"
Yusef's list of accomplishments is comparable to his celebrity clients. Born and raised in Miami, the beauty pro started doing hair shortly after moving to Paris, working backstage during fashion week. He then moved to NYC, where he added an impressive list of celebrity clients. He's worked with former First Lady Michelle Obama, Kerry Washington, Tyra Banks and Naomi Campbell.
Then, Rihanna happened: "As a hair artist, your biggest dream is to work with people who are willing to take risks," he told E! News. "When I was introduced to Rihanna to do her hair, I thought, 'Oh God, this is it. This is my time to shine.' She is very daring and willing to take risks. It was a dream to be with somebody that was new and cool and fresh."
"When you're in the spotlight, being fearless comes with the territory," he added. "Or else, this isn't [the industry] for you."