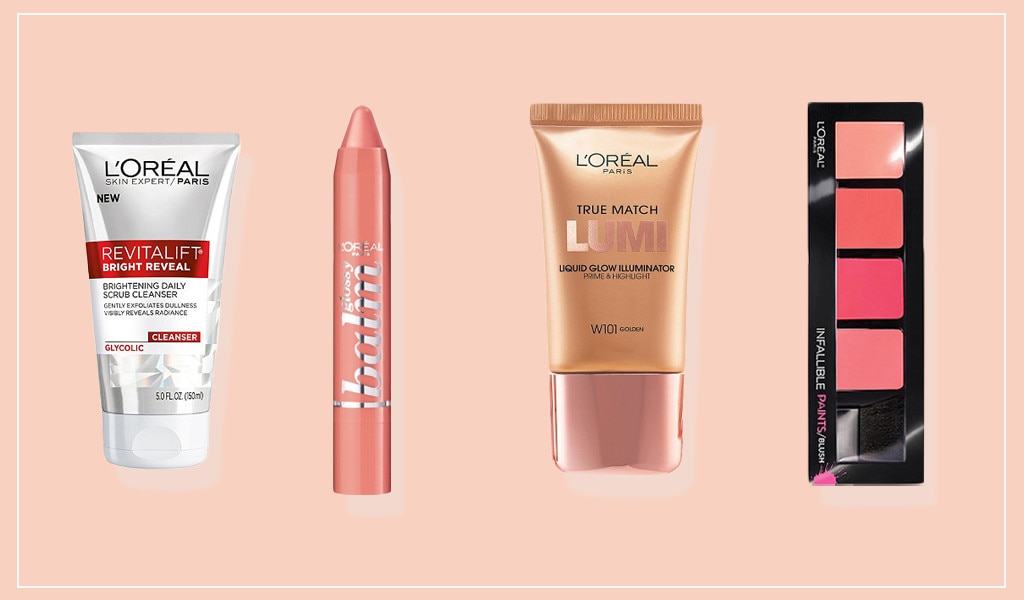 Just when you've perfected that smoky eye, the season goes and changes to spring.
You could keep sporting that sultry dark makeup, but there's something about warmer weather that innately makes us all want to do less with our beauty routines. "Spring makeup really reflects the mood of the season…it's time to lighten things up and show off the airy, vibrant nature of spring," elaborated celeb makeup artist Melissa Murdick.

But here's the trick: Instead of restocking your makeup bag completely, focus on products that will make your skin glow.
Up Your Exfoliation Game: No matter where you live, it's been a minute since your skin has seen a proper amount of sunlight, so we don't blame you for being paler than usual. Additionally, it's also common for skin to be dull from months of indoor heat. So first order of business this time of year? "Make sure you are exfoliating to help get rid of dead skin," said the pro. (A few times a week is plenty!)
Editor's Pick: L'oréal Paris Revitalift Bright Reveal Brightening Daily Scrub Cleanser, $6.99

Focus on Sheer Pops of Color: While winter makeup was all about moody lipsticks and strongly contoured cheekbones, the key to your spring look is sheer, sheer, sheer! "Anything that now feels too heavy (like an opaque lipstick), can be swapped out for a more sheer version, like a tinted lip balm or a glossy crayon," explained the pro. The less-is-more tactic also applies to your cheek color. "Use a very small amount of bright blush, put on with a light hand and a blending motion, so that it is transparent enough that you can still see your skin underneath," shared the pro.
Editor's Picks: L'oréal Paris Colour Riche Glossy Balm, $7.99; L'oréal Paris Infallible Paints Blush, $16.99
Highlighter is a Must: Fresh is the key word when it comes to spring makeup, so even though it's tempting to go overboard with your contouring, focus your attention on creating the optimal highlight. "Use a liquid highlighter mixed in with your foundation, or for a pop, use it alone to highlight the cheekbones, nose and Cupid 's bow," recommended the expert. The whole point is that you want to bring your skin back to life in a natural-looking way.
Editor's Pick: L'oréal Paris True Match Lumi Liquid Glow Illuminator, $12.99