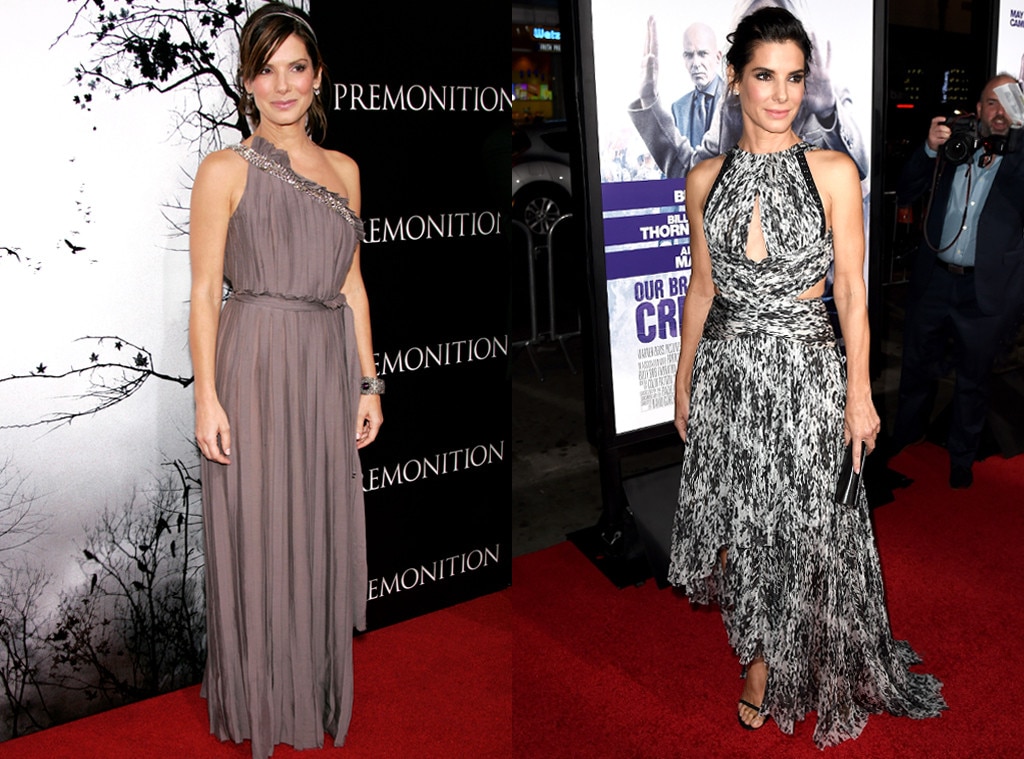 I don't believe in Benjamin Button, nor do we know what looking your age is supposed to mean.
What i do believe in is health and fitness, taking care of yourself and doing whatever it is that makes you feel your absolute best, inside and out. And at the end of the day, even though the calendar ensnares us all, and it can feel as though the mirror is staring back a little too harshly at times, you're only as old as you feel.
Much ado is made, in Hollywood especially, about not just aging and looks in general, but also about the idea of a female celebrity managing to look so young even when she's so...

What? Old?
Perhaps it's because the women who achieved stardom throughout the 1990s—some becoming film, TV and music royalty—are now entering their 40s and 50s, we haven't really thought about them getting older, per se. Sure, they're asked constantly for their philosophies on aging in order to cure all the addled minds out there, but they certainly don't seem "old" in some traditional sense of the word.
You certainly can't tell from their hair or their fashion, their sparkling eyes or radiant smiles, their talent or their certain je nais se quois that's still palpable 20 (or more) years since they first hit the scene as up-and-coming twentysomethings. Maybe a bright side to being so exposed in this day and age, or one of the perks of having the chance to share on social media, is that it makes us feel more as though we're all in this time thing together. They age a year, we age a year. No one isn't doing it.
And while the old adage is that Hollywood is the land of the young, and ageism is still a pernicious problem to be combated in La La Land and everywhere else, these ladies remain at the top of their game, in demand and wearing multiple hats—as actor, artist, producer, business owner, Oscar winner, Grammy winner...anything they've set their mind to. Genes are a head start, but these five women are living proof that there isn't a set time to "pack it in," no particular age at which you should be out of the running for the "sexy roles," no year to start wearing "sensible" styles—and no time to slow down if you don't want to.
The next generation of worried twentysomethings should take heart.
Over the course of eight years, Sandra Bullock, has gone from goddess to goddess. That's her on the left in 2007, three years before she won her Best Actress Oscar for The Blind Side. And that's her on the right, 50 years old in 2015, at the premiere of Our Brand Is Crisis and looking as fabulous as ever. Next up is Ocean's Eight, in which she gets to be the Clooney—savvy, sexy and only getting better with age.
After landing the cover of People's annual Most Beautiful People issue in 2015, Bullock told E! News, "I laughed when they said they're gonna be generous and bestow me this wonderful privilege, but I said if I can talk about the amazing women who I find beautiful, which are these women who rise above and take care of business and do wonderful things, and take care of each other, then I'm more than honored to be on the cover of this."
The world will never get enough of peering closely at Jennifer Lopez, wondering how she does it and possibly hoping to get a tan from the radiance she projects. But there's no doubt that at 47, in addition to being ridiculously good-looking, she embodies the youthful, warm spirit that some people aren't even lucky enough to have at 25.
"I always used to hear this saying, until you're about 25 or 30, you get the face God gave you," the Shades of Blue star said on Today in January 2016. "After that, you get the face you deserve. And I always kind of thought, well I better be nice."
Halle Berry has been the definition of beauty for the past 30 years, and we don't see that changing anytime in the 30 to come.
Obviously the 50-year-old has been blessed with the foundation since birth, but she carefully tends the manor to make sure it doesn't crumble: SPF, a clean diet (she's been open about having diabetes, which precluded her from ever going overboard with sugar), hydration, etc.
Acceptance has helped too.
On the ever-present temptation or pressure in the showbiz world to get plastic surgery, she said in 2015, "I just have kept reminding myself that beauty really is as beauty does, and it is not so much about my physical self. Aging is natural, and that's going to happen to all of us. I think of those women that I thought aged so beautifully, like Lena Horn.
"Even how Jane Fonda is aging—I don't know what she has or hasn't done, but she looks beautiful as she's going about her way. I just want to always look like myself, even if that's an older version of myself. I think when you do too much of that cosmetic stuff, you become somebody else in a way."

Gwen Stefani has obviously had whatever these other women are having, too. She admitted back in 2012, when she was only 42, that there was no secret to looking as good as she did.
"There is no secret: You just have to eat healthy, work out, and torture yourself!" the "I'm Just a Girl" singer famously told Harper's Bazaar.
Now at 47, while she glows as much as ever, Stefani isn't crediting torture anymore.
"I'm writing music that's about happiness and truth!" the lovestruck singer said last year during "Carpool Karaoke" with James Corden, still doing justice to platinum hair and ruby red lips more than 20 years after she burst on the scene with No Doubt—and finally enjoying a little karmic justice in her personal life.
We've been following Reese Witherspoon's career since she was 14—as in, before there was an internet, so we weren't actually following her career... But! She's been famous all that time, and to look at her is to forget that almost 16 years have gone by since Legally Blonde, much less 26 since The Man in the Moon.
"It's a great thing getting older," the Oscar winner said last year as her 40th birthday approached. "You are who you are; you say what you mean. And if your face falls down a bit? I kind of enjoy that!"
Whether that turns out to be in any way true, we still have uncovered indisputable proof that aging needn't be something to shy away from. We can't all be J.Lo, but keeping our better selves at the ready ensures that we can always put our best face forward.