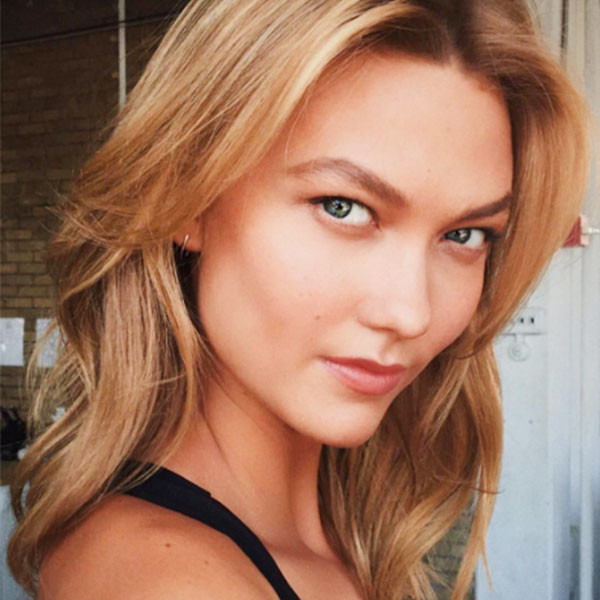 When spring rolls around, we're more than happy to see the sun.
One gripe, however, is how pale we are compared to how tan we all of a sudden want to be.
As nice as it would be to glow all over, we'll settle for a bronzed makeup look instead. But one question: How do you go from pasty to Karlie Kloss-like (a.k.a. golden goddess-status) without overdoing it in the bronzer department? Thankfully, celeb makeup artist Paul Blanch has a few tips on what products to use, but more importantly, how to apply them in a natural but noticeable way?
Pick a Matte Bronzer to Start: "Everyone wants to be dark, so it's nice to have two different bronzers: one that's a matte,medium shade and then something that has a little bit of illuminator," said the pro. For the most part, you'll use your matte bronzer (the one that doesn't have any shimmer), and apply it pretty much everywhere. This includes: the cheekbones, under the neck, the clavicle and up against the hairline. "Just leave the high points of the face free so that you can go back with the second color that has a little more shimmer," he explained.
Use a Big Fluffy Brush: It's most important to apply the color with a larger brush. "When you use a smaller compact brush, you get more of a dark color, and that can get very heavy handed, very fast," warned the pro. A bigger brush makes it easier to do a soft, sweeping motion, so you can build up color slowly. "I would also recommend applying it in natural lighting. Most bathrooms have a warmer light and you aren't able to see how much bronzer you're actually putting on," he explained. So just grab a hand mirror and head to the room with the good lighting for the best results.
Incorporate a Face Mist: "My favorite thing to do after applying a bronzer, so it doesn't look too powder-y, is to use some sort of hydrating mist," noted Paul. Just do a spritz over the face and let it sit. Another tip: If you do happen to get heavy handed, utilize the face mist here, too. "A really good tip is spritz that face mist all over and then get a sponge and keep pressing it in. It will slowly melt away any excess product that you don't want," shared the pro.
Did you just bake in the sun? Could have fooled us!