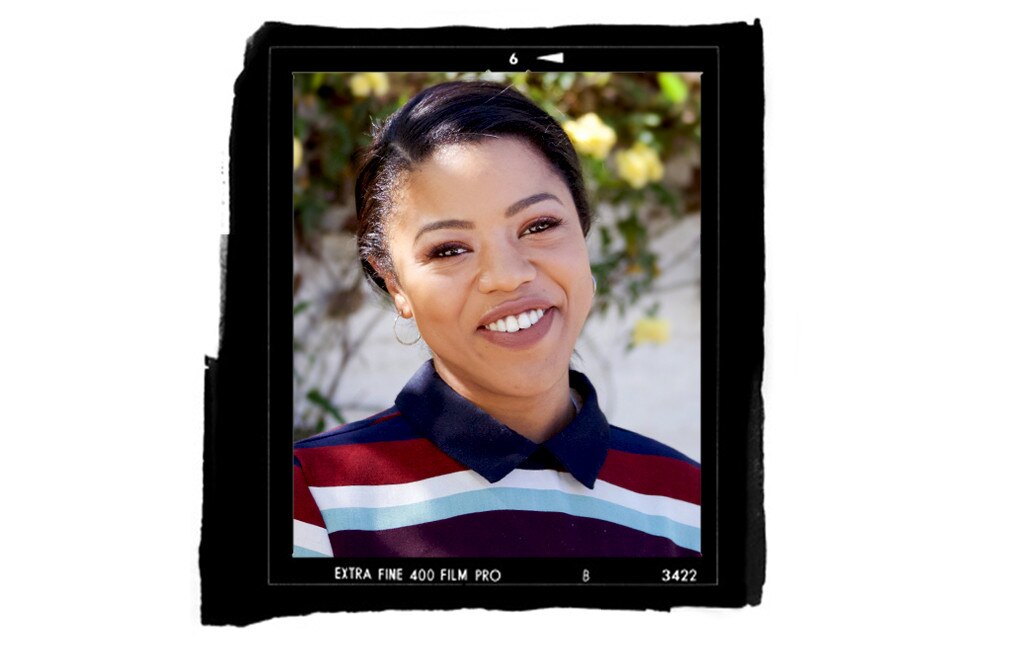 My social media feeds are filled with beautiful faces.
From my gorgeous friends (shameless plug) to celebrities like
Kylie Jenner
and makeup pro
Shayla Mitchell
, I am constantly seeing flawless faces. However, after filters, apps like Facetune, good lighting and carefully thought-out angles, it's not exactly effortless. Thus, it has set a very high standard for modern beauty that's seemingly void of blemishes and imperfections.
After watching women "beat their faces" every morning, I wondered, "If I put more effort into my appearance, would I experience a boost in confidence?" (Think: the feeling you have when you walk out of the hair salon.) I love getting glam on the weekends, but on a day-to-day, I stick with tinted moisturizer, light foundation, mascara and bronzer (sometimes, I even go makeup free).
But, what if I woke up and spent the time to get camera-ready? Kylie does it every day to the delight for her millions of followers. Her beauty regime been so impactful that she's created a business around it;
Kylie Cosmetics products sell out in mere minutes. The question is: Is her look achievable for someone without a glam squad on call? There was only one way to find out.
Let me preface this experience by admitting that I started my journey at Star Lash Extensions, where Kylie and Selena Gomez have extended their lashes. Even though it required an hour-long appointment,
it saved me a lot of time
in the end. (Note: When extensions thin out,
Kylie is a fan of Ardell Falsies
).
Next, I gathered the products that Kylie swears by on her social media, which came out to approximately $300 worth of eye shadow, contour and highlight palettes. Admittedly, I added a few of my usual products so I wasn't too out of my element. Finally, I was ready.
DAY 1
I woke up on day 1 to a few lashes on my pillow, reminding me of what lie ahead. "What have I gotten myself into?" I asked myself. As I laid all of my products, tools and brushes on my bathroom counter, I felt excited about getting glam. Who wouldn't be excited with all of the highly-praised products? Pretty pigments, radiant nudes, shimmering creams—it's a beauty lover's dream.
As I actually started applying contour, I remembered that all of my choices and talents (or lack thereof) would be documented. At that point, I sighed in the mirror and wished that I had a glam squad at my beck and call. My biggest worry rested in the poor lighting of my bathroom. Without natural light, I have to go between my living room and bathroom to make sure that my makeup is blended correctly. What's the use of having brilliant colors if you can't see what you're doing? Lesson one: I need this mirror.
The Look:
Copper Eyes with a Nude Lip
The Time:
45 mins
The Products:
Kylie Cosmetics The Royal Peach Palette
;
Tarteist PRO Glow Highlight & Contour Palette
, $45;
MAC Studio Fix Fluid SPF 15
, $28;
Tarte Tartiest Quick Dry Matte Lip Paint in Bestie
, $20
DAY 2
I learned very quickly that although Kylie's makeup looks appear subtle, perfecting your complexion takes ample time and effort. You can't cheat the skin if you want to look flawless. So, when I woke up at my normal time, I was annoyed by the challenge. But, I did it anyway, knowing that I would be behind schedule for the rest of the day. First moisturizer, then primer, then foundation, then concealer, then contour, then highlight and then bronzer...my pores were suffocating from layers upon layers of products.
Between running late and clogging my pores, I wasn't feeling too hot. Sure, my "imperfections" were no longer visible. But, everything else felt like it was in a bit of disarray. Walking at a quick pace to a lunch meeting, a guy turned to me a smiled and opened the door for me. "Sweetheart, you're beautiful. You know that you don't need makeup, right?" I think he was shaken by the look of fury on my face. After my intensive beauty regime, you tell me that I don't need makeup! And, ew, don't call me sweetheart. Wrong day, bud.
The Look:
Peach/Gold Radiance
The Time:
40 mins
The Products:
Kylie Cosmetics The Royal Peach Palette
;
Tarte Amazonian Clay BB Tinted Moisturizer Broad Spectrum SPF 20
, $28;
Anastasia Beverly Hills Contour Kit
, $40;
NYX Jumbo Eye Pencil Shadow Liner 612 Gold
, $5
DAY 3
I succeeded at waking up earlier, but the ringing of my alarm instantly triggered the thought, "WTF, Kylie Jenner. This is all your fault." (I'm sure she's a lovely woman, but I can't be blamed for my thoughts prior to 7 a.m.) As I stared in my mirror of my awfully-lit bathroom, I couldn't gather the strength to lay out all of my facial products and brushes. I just couldn't do it to my skin. So, I opted for bareMinerals instead, skipped the contouring and set my makeup with tinted Laura Mercier powder. I may not have had Kylie-status coverage, but I felt pretty, like smiling.
Since I went lighter on the face makeup, I decided to go for a bold lip. Most of the lip colors that Kylie wears just don't look good on my skin complexion. I can't do pale pinks. But, I have seen her go dark, so I tried that. It was pretty, but a little much for work. I kept thinking that I was having conversations with lipstick on my teeth. I was quiet for most of the day.
The Look

:

Glittery Eyes with a Bold Lip


The Time

: 40 mins


The Products

:

Bare Minerals Complexion Rescue Tinted Hydrating Gel Cream

, $29.50;

Colour Pop Bronze Me

, $8;

Laura Mercier Translucent Loose Setting Powder

, $38; Tarte Tartelette in Bloom Clay Palette

, $46;

WLUE Cosmetics Bossed Up Intense Cosmetics

, Now $9.99
DAY 4


With a packed schedule at the office, a really dramatic look was off the table. I've recently been entranced by the glossy eye trend because of its subtle appeal. I prepped my lids with primer and a nude shadow and added a metallic eyeliner for a little pop. Then, I put the MAC Lipglass on a flat eye shadow brush and pressed it into the shadow. I loved the look, but the substance is so thick that my eyelids were sticking on every blink. I don't recommend this for the office; instead opt for a shimmery cream.


I also learned on day 3 that matte lipstick just isn't for me. I know it's all the rage, but just because a beauty product is popular doesn't mean it's for everybody. I don't love the dryness. But, I found that mixing it with a balm tends to help my lips retain moisture.
The Look:

Glossy Lids


The Time: 45 mins
The Products:

MAC Clear Lipglass

, Now $13.60;

NYX Slide On Pencil in Golden Bronze

, $8;

Anastasia Beverly Hills Modern Renaissance Eye Shadow Palette

, $46;

Bare Minerals Complexion Rescue Tinted Hydrating Gel Cream

, $29.50;

Tarte Tarteist PRO Glow Highlight & Contour Palette

, $45;

Circa Beauty Ultrasuede Cream Blush

, $13
DAY 5
When my alarm went off, I smiled, because it was the last day of my "picture perfect" makeup journey. I wanted to go out with a bang. I went for a bright eye shadow, a look that I love, but normally wouldn't dare wear to work. I love how a bright color on the top lid and under the bottom lash line can frame the eyes. I felt very glam, until I walked in my boss' office to ask a serious question. At that moment, I remembered that I looked like Katniss Everdeen, and it kind of put out my fire. You'll definitely catch me at a summer party with fiery eyes, but for now, I'll keep it out of the boardroom.
The Look:
Pop of Red
The Time: 50 mins
The Products:
Anastasia Beverly Hills Modern Renaissance Eye Shadow Palette
, $46;
Kylie Cosmetics Candy K Matte Liquid Lipstick
;
NYX Jumbo Eye Pencil Shadow Liner in Milk Lait
, $5;
Laura Mercier Translucent Loose Setting Powder
, $38;
Circa Beauty Ultrasuede Cream Blush
, $13
After everything was said and done, I gained a new appreciation for women that put a lot of effort into their look every day. In my experience, documenting the process and placing so much focus on my appearance didn't make me feel more beautiful. I didn't enjoy the pressure of being photographed every day or the thought of thousands of people judging my appearance. It's no wonder that the 19-year-old has a glam squad and the best makeup products money can buy.
Even though I fought it, I enjoyed being an artist every morning. There is something about picking up a brush and your favorite shimmery product that makes makeup so much fun. But, wearing makeup didn't affect or brighten my mood like I thought. In fact, the added attention only made me shy away from it. It felt like it was more for my followers than it was for me. Then again, I'm not Kylie Jenner...I am one of her 89 million followers.