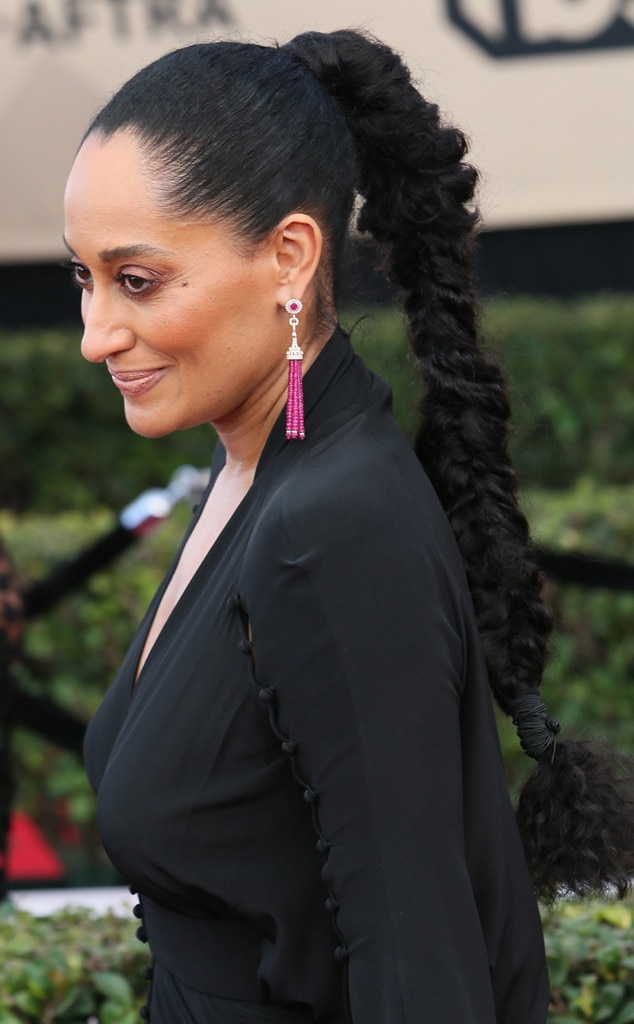 Ponytails are universally loved, and with good reason.
Whether you're running late in the morning, heading to a fitness class or shutting down the red carpet (See: Tracee Ellis Ross at the 2017 SAG Awards), there's a ponytail for you. They're simple, easy and versatile, so you've probably got a go-to that you find the most flattering. Usually this depends on your facial shape and the height of the ponytail, but there are plenty of ways to make the hairstyle unique to you.

Celebrity hairstylist Larry Sims, responsible for Tracee Ellis Ross, Gabrielle Union and Sanaa Lathan's precious tresses, told E! News everything you need to know to rock the perfect ponytail.
"The ponytail no longer has the reputation of being a style associated with adolescence or a quick fix," the expert explained. "Ponytails are now adorned and are being worn on the red carpet as intentional style grabbers with modern variations that give an update to this classic look."
Is your ponytail a "style grabber?" When asked how he chooses the perfect pony for his clients, the beauty pro broke down his process.
"If a client is wearing something with a busy pattern, I would recommend a sleek ponytail. For a look that is more casual, I would suggest something that is disheveled and organic utilizing their natural hair texture. For a sporty ensemble, a high ponytail is always a great option. And for a relaxed looked with jeans, a low ponytail at the bottom of the neck is always fresh yet put together."
Looking for the style that fits your personality?