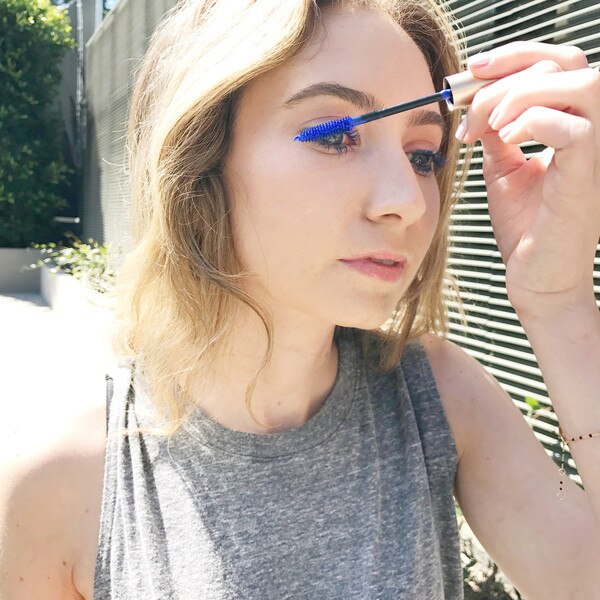 I should start by saying that blue is my signature color.
For as long as I can remember, I have sported cerulean-hued eyeliner because it makes my already insanely blue eyes pop. Alone it does wonders, but when I'm going for a sultrier nighttime vibe, I'll throw some blue-ish eye shadow into the mix, too. It's safe to say there's no cobalt-toned eye makeup product I haven't tried—until recently that is.

However, when it comes to mascara, believe it or not, I've always kept is super-basic with just a classic black. It's never actually occurred to me to switch up the color. But when my go-to came out with cobalt blue version (L'oréal Paris Voluminous Original Mascara), I decided to give it a whirl. Would colored mascara even make that much of a difference? What's the point, I thought to myself. For $7.99, I was about to find out.
It was a Monday morning when I decided to give it a-go for the first time. I didn't deviate from my normal look in any other way: a little foundation, highlighter and blush on the cheeks, clear lip gloss and my usual blue eyeliner, of course. The only difference was that I was adding the cobalt mascara in the place of black. (I should also mentioned that I used L'oréal Paris Voluminous Lash Primer, too, which is not the norm for me).
Formula-wise it was as expected: thick but not too tacky and vividly sapphire in color. One swipe didn't seem to make an impact, but a few layers later I noticed a nice, blue tint. Once a little product had griped my lashes, I strategically wiggled the brush at the roots to distribute even more. Not only did this help to intensify the color, it really gave my lashes that volume I was after. Once I applied to both top and bottom on both sides, I surveyed the final look in the mirror. My eyes were bluer than ever, but in a subtle way.
At work, nearly everyone had something to say. It was like when you get a new haircut: There's something different, but no one can quite put their finger on it. When I told them, they noticed the new lash color, but it was only in the light that you could really tell my lashes were, in fact, blue in color. It even lasted all day, all the way through a gnarly sweat session at the gym.
Now that I've tried it, I feel like whether I'm going super-low key with nothing else on or full-on glam for date night, blue-tinted mascara now has a permanent place in my signature beauty look.
Hey, anything that makes people do a double-take is a win in my book. Wouldn't you agree?