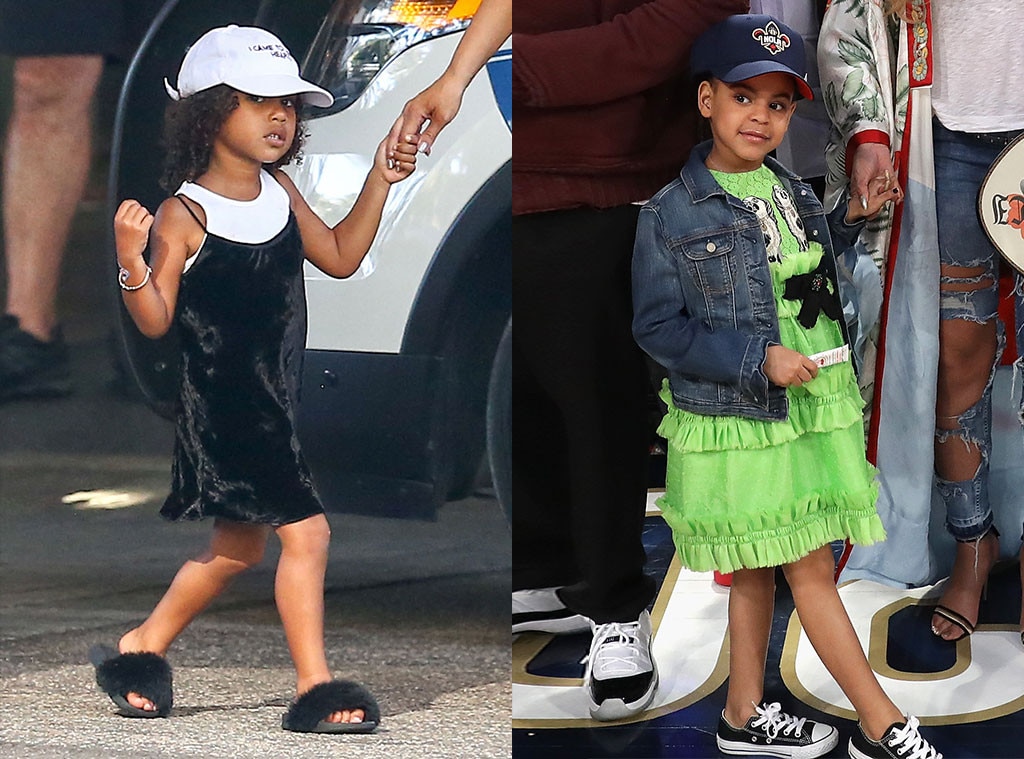 When you think of the most stylish kids in the business, there's no doubt Blue Ivy and North West come to mind...and it's not just because of their fashionable parents.
In fact, while Beyoncé and Kim Kardashian may help dress their daughters, both Blue and Nori have completely different styles than their mamas. It's like the two toddlers have somehow combined the forces of Kim and Bey as well as their dads, Kanye West and Jay Z, all the while mixing in their unique personalities to become fashionistas all in their own right...at an impressive age of 5 and 3!
So what exactly makes the toddlers "style icons?" Let's investigate...
Their High-Fashion Wardrobes: Most of us won't ever rock a Gucci jacket or a Chanel purse, but Blue and North have already checked that off their list...and tons more.
Blue Ivy is known for rocking matching fashion to her mama, and that means those outfits come with a big designer name. The 5-year-old has rocked everything from a Dolce & Gabbana lemon dress to a Gucci embroidered jean jacket, a Gucci floral summer dress and a Gucci sik ruffled shirt.
Little Nori is no stranger when it comes to rocking designer either. She's worn everything from Charlotte Olympia flats to custom-made Balmain blazers to Oscar de la Renta gowns. Not to mention, she was the first to wear many of the pieces from Kanye's Yeezy kids collection, too.
And Custom Closets: But aside from just designer styles, another big thing that sets Blue and Nori apart from other fashionable toddlers is that they're constantly fitted with custom ensembles you can't just find in-stores.
For example, North has donned custom Givenchy and custom Alexander Wang while sitting front row at Paris Fashion Week in the past.



Their Immaculate Styling: If we put the high-fashion brand names and the custom-made pieces aside, these two toddlers showcase immaculate styling—from monochramtic looks to layering—no matter what they're wearing.
One of our favorite outfits Nori has ever rocked was when she matched her mommy in a silver, sequined dress while heading to Kanye's concert at Madison Square Garden in New York City. She took the girly look to another style level by unexpectedly pairing the dress with Vans tennis shoes. Trés chic!



Similarly, one of Blue's perfectly-styled outfits that we'll never forget is her "Miss Blue Carter" embellished leather jacket. She showcased massive style by accessorizing it with a pair of adorable, floral Doc Martens to give the rocker look a hint of girly attitude.



Their Influence on Older People: Not only can we consider the toddlers icons for the younger generations, they also influence older people, too.
Many bloggers, editors and outlets have taken on the task of dressing like Blue or North for a week and admitted it made them feel all the more glamorous. You may find this a little odd (for older people to emulate a 3 and a 5-year-old), but to be fair, the girls dress much older than their actual age, so it makes sense.



Their Confidence: More than just the brand names, their expensive taste and their styling, Blue Ivy and North West both have one other thing in common when it comes to being fashion icons: their swag.