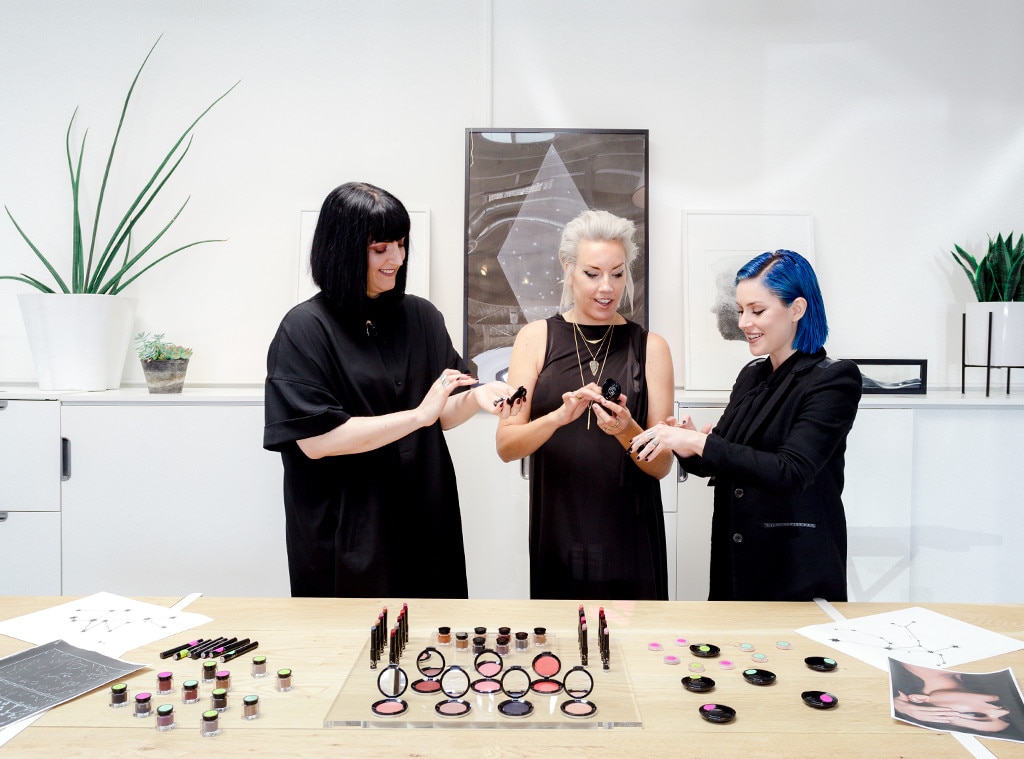 When you think of makeup made of 99 percent natural ingredients, futuristic pigments probably don't come to mind.


Cue Michelle, Katherine and Caroline Ramos, the founders of Rituel de Fille (pronounced Ritu-elle d'Fee). The artists prove that bold looks can come from eco-friendly materials with their "spellbinding" makeup.
As the industry leans toward more natural products, celebrities alike are opting for their bright, fun hues. For instance, Selena Gomez's go-to makeup artist, Hung Vanngo, is a fan of the brand of their luminizer.
"I think people have an immediate emotional connection to the authenticity and consistency of our vision," Michelle told E! News. "Our unusual brand perspective informs every single decision we make—and an artistic connection to the range of color they can achieve with our products."
Want to know more about the brand? Keep reading!
What was your first job?
Michelle
: Chef at a Greek restaurant.
Katherine
: In eighth grade, I had a summer job in the production studio for
artist Niki de Saint Phalle sanding rough edges off of sculptures as they came out of the molds.
Caroline
: A sales associate at Ulta.
How did you get into the industry?
Michelle
: I fell into the industry after my writing job for Mary-Kate and Ashley's magazine ended. I was at a loss of what to do, and a stylist friend suggested I go to makeup school because I was an artist—so I did!
Katherine
: A deep love of makeup, art and beautiful packaging from a very young age, and professionally, a college internship in the color marketing department of a major multinational color brand.
Caroline
: Makeup was the only industry I was ever drawn to, and I started working as a makeup artist on set while I was still a teenager.
What is a typical day like for you?
We manage everything in house, from product development, manufacturing, creative and fulfillment, so it's completely different from day to day. Right now, we're working on an exciting new product release with Eclipse Inner Glow Crème Pigment, so we're doing a lot of design, photo shoots and writing to represent this beautiful new color. But another day, we might be working on developing new shades for future releases, testing formula improvements, meeting with some of our incredible retailers or working with our products on set.
What is Rituel de Fille best known for and why do you think it does so well?
We are known for pushing boundaries, creating unexpectedly bold, pigmented colors from natural pigments.

This translates to our best selling product, our Ash and Ember Eye Soots. These beautiful little jars of magic are truly unlike anything else on the market, and every jar is hand crafted using a process that has taken years to refine.
What's the best part about your job?
It's an incredible feeling to see our ideas go from the very earliest phases all the way to a beautiful physical thing that's out in the world. We'd worked on developing Rituel de Fille for so many years before we went to market that it's still a little surreal (and absolutely exhilarating) to see our creations inspiring others. Getting to work together as sisters, and using our authentic creativity to make something we truly love, is the most fulfilling thing we have ever done.
What's the most daring career risk you've ever taken?
Starting our own line. We all had to take a massive leap of faith with our careers to create Rituel de Fille. Since day one, we made a decision that this is it for all of us—and we all dropped everything that we possibly could in our lives to dedicate ourselves fully to this.
Who are some of your career heroes?
Rei Kawakubo, the founder of Comme des Garçons. Beyond just identifying with her austere, deconstructed, stark and powerful aesthetic, she's also a wildly inspiring entrepreneur who went from untrained designer to managing all aspects of an extraordinary fashion house. Tilda Swinton, for building an entire career on being an uncompromising nonconformist. Her personal identity completely rejects the beaten path of Hollywood actresses. We have also been really inspired learning about those who have come before us in this industry, creating something from nothing and proving that this impossible-feeling thing can actually be done, such as Madam C.J. Walker.
What is the best piece of advice you've ever received?
Before launching, we'd been told that as an entrepreneur the one of the hardest things you'll ever do is hiring; you have to have (and keep) incredible people to grow an incredible company. Starting as a family business, we have always believed in forming strong bonds and offering everyone respect, honesty and kindness while making sure they feel appreciated and empowered. We try to focus on love, enthusiasm, and gratitude in our day to day.
Tell us about your office décor.
Minimal and modern with special details.
What are your favorite items on your desk and why/what do they mean to you?
Michelle
: Pictures of my kids and husband and a collection of rocks and crystals from various places that have meant something to me. It keeps me focused on the really good parts of my life when work gets stressful or overwhelming.
Katherine
: Some tiny Japanese pinecones that I brought back with me from
Naoshima, a little fishing island in Japan that's filled with incredible contemporary art installations. They're a little reminder of surprise and wonder in the world from one of the most extraordinary places I've ever been.
Caroline
: To me, a combination of minimalism and organization is the most soothing thing on the planet. There is nothing I love more than a label maker and stark white, so my work spaces usually have as little on them as possible. Right now, my desk only contains my laptop, my iPhone, a notepad and beautiful negative space.
What makeup trend do you love right now?


Luminous, almost bare-looking skin, glossy creased lids and vibrant monochrome looks.



Finish the sentences below:

Today for lunch I had…
Michelle

: Vegan tacos.


Katherine

: a coconut bahn mi rice bowl from Hero Shop in DTLA.


Caroline

: Harissa salmon and quinoa.



The first website I log onto every day is…

Instagram (either from the app or a browser)



My usual Starbucks order is…
Michelle

: Triple grande soy latte, extra hot.


Katherine

: Double shot flat white.


Caroline

: Venti English Breakfast tea with stevia.



If I wasn't doing this job, I would...

still be trying to start a makeup line.


My favorite place to visit is…
Michelle

: Palm Springs.


Caroline

: Berlin.


Katherine

: New York City.


The book I'm reading right now is…
Michelle: Brain on Fire: My Month of Madness.
Katherine: A Natural History of the Senses by Diane Ackerman.
Caroline: Middlesex.