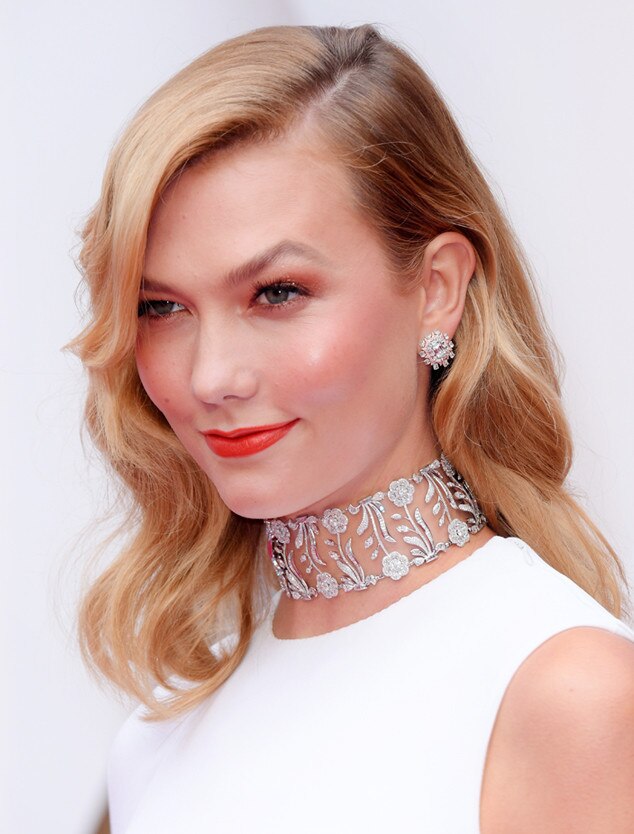 Makeup is not one size fits all…unless, of course, you're talking about the color orange. (Yes, really. Here me out.)

"Orange is such a flattering makeup color for spring and summer and it literally looks good on everyone," noted celeb makeup artist Suzie Kim. But there are tons of variations, from earthier rust shades to more intense red-orange hues. And it doesn't matter if you're pale or extra tan, this color family looks good on us all. Don't believe it? Here are a few celebs that have donned different shades of orange in all the right ways.
If you're usually a low-key makeup girl, Karlie Kloss' look is a good way to dip your toe in the orange-makeup pool. For a fresh take on red lips, simply swap your rose color for a coral one. "What I like most about this look is how sheer it is overall—that's what gives it that modern, fresh feel," explained Suzie. In other words, leave your eyes alone (subtle liner and a shimmery shadow is all you need) and finish your look with a punchy orange blush just on the apples of your cheeks. "Don't forget to blend, that sheer look is what makes it youthful," said the pro.
Perhaps the boldest way of all to wear orange makeup is how Jenna Dewan Tatum does it: with a loud, fire-engine red lip. "When your lip color is this dramatic, you have to keep your eyes very neutral," warned the pro. To keep the focus where you want it, nix smoky eye shadow and opt for full lashes instead. As for your skin, it's all about the glow. "Subtly add dimension to your face with a good bronzer and a little bit of illuminator," she explained. This way you'll feel camera-ready, but the only overpowering factor is the trendy lip color.
"Rust is my current favorite way to do orange because it's subtle but it also stands out," explained Suzie. The key is to use a smoky eye technique to line the shadow all around your eyes—top and bottom. "Don't add too much liner or any darker colors that will weigh the look down," shared the pro. This earthy shade looks extra-great against olive complexions (like Emily Ratajkowski's), but will give any skin tone an instant edge. Finish the look with a little bronzer and a sheer peachy gloss, and you're done!