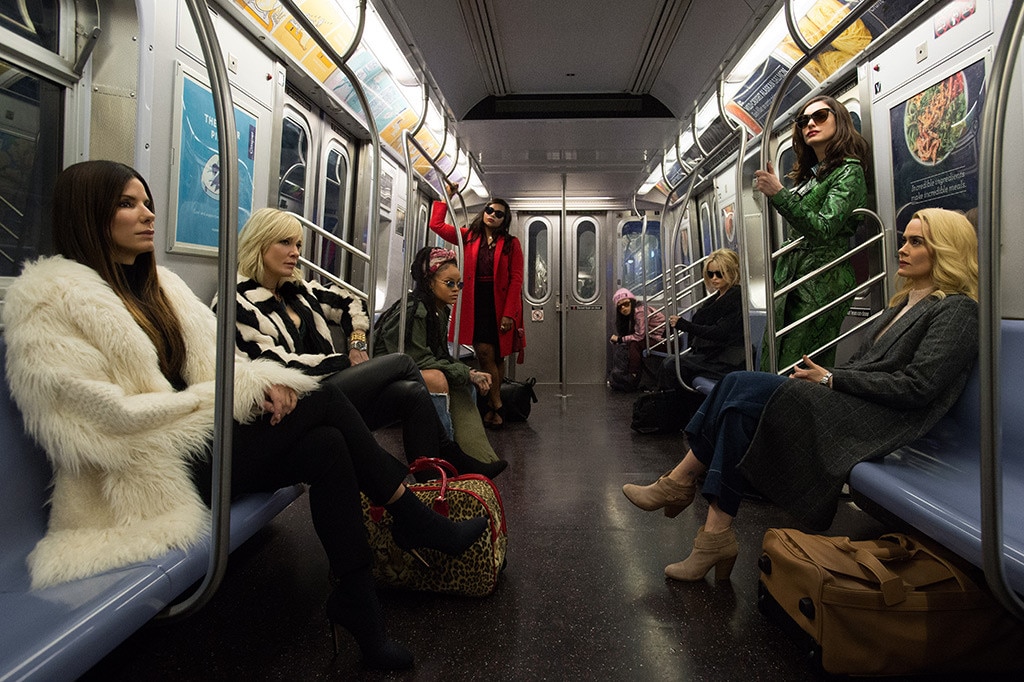 Nothing to see here, right? Just eight women commuting via the New York City subway.
Except these are no ordinary women. Warner Bros. has released the first official photo from Ocean's Eight, showing cast members Awkwafina, Cate Blanchett, Helena Bonham Carter, Sandra Bullock, Anne Hathaway, Mindy Kaling, Sarah Paulson and Rihanna riding the rails.

The studio also confirmed what fans already know: the group will attempt "to pull off the heist of the century at New York City's star-studded annual Met Gala." To do so, Debbie Ocean (Bullock) needs an all-star crew: Constance (Awkwafina), Lou (Blanchett), Rose (Bonham Carter), Daphne Kluger (Hathaway), Amita (Kaling), Tammy (Paulson) and Nine Ball (Rihanna).
Barry Wetcher/Warner Bros. Pictures
Word on the street is that Debbie's brother is none other than Danny Ocean (George Clooney). Whether Clooney will reprise his role in the female-driven movie is a mystery...for now, at least.
Not that there aren't enough stars in Ocean's Eight.
Hailey Baldwin, Derek Blasberg, Katie Holmes, Kendall Jenner, Kim Kardashian, Zayn Malik, Olivia Munn, Zac Posen, Lauren Santo Domingo, Alexander Wang and Anna Wintour all filmed scenes at the Met Gala. Matt Damon is reprising his role as Linus Caldwell from the Ocean's Eleven films, joining newcomers Richard Armitage, James Corden and Damian Lewis.
Director Gary Ross co-wrote the Ocean's Eight script with Olivia Milch.
Just don't expect to see a trailer anytime soon: the film doesn't hit theaters until June 8, 2018.
It's a wonder no major plot points have been leaked, given that the paparazzi documented the cast's every move after filming began in the fall of 2016. "With that group of women, I've never felt so unfamous in my life. Like, I thought I was pretty cool," Kaling said on NBC's Late Night With Seth Meyers in December. "People think I'm Sandra Bullock's assistant and they're like, 'Get out of the way! We need to bring Sandra her matcha tea.' I'm like, 'I'm in a scene with her. I'm not her assistant.' Then I'm like, 'OK! Whatever. I'll give her her matcha tea. Might as well.'"
After her big win at the 2017 SAG Awards Sunday, Paulson told E! News' Zuri Hall she's having an "extraordinary" time on the Ocean's Eight set, as her seven co-stars are "a great group of gals." In fact, Paulson joked, "We shouldn't be allowed to have so much fun and be paid for it!"