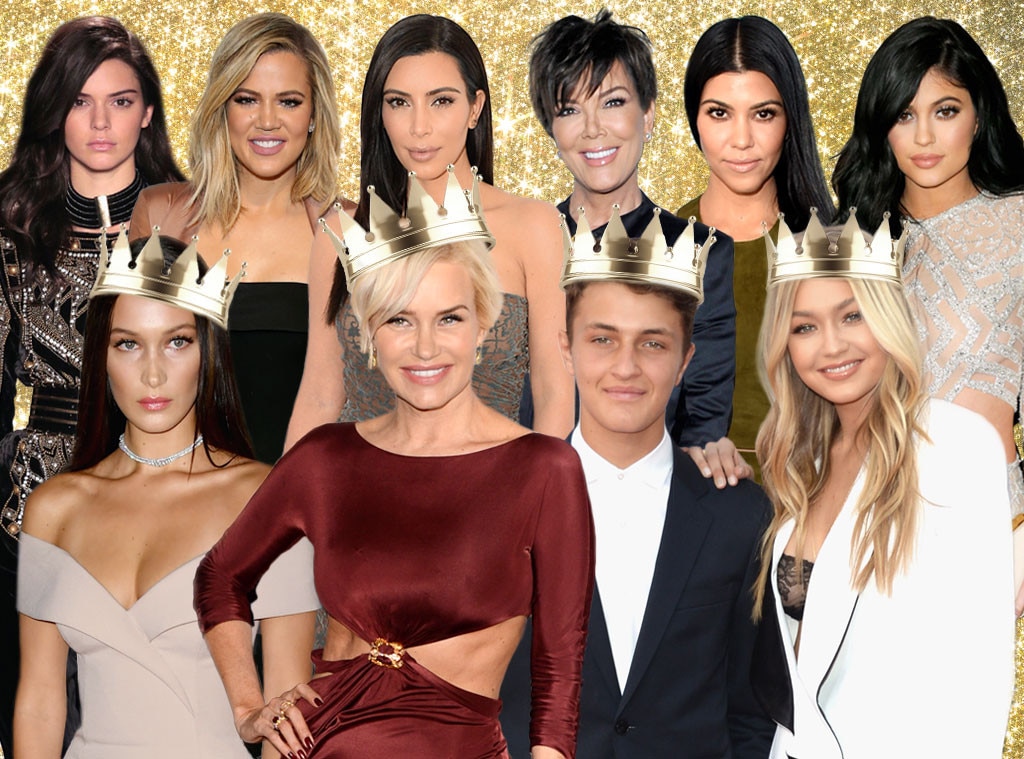 The tectonic plates of fame are shifting, and it's time for everyone in Hollywood to brace for the earthquake.

For years—decades, perhaps?—the Kardashian family has reigned supreme in the tabloids. Its members, each more perfectly groomed than the last, have dominated social media feeds, celebrity news cycles and paparazzi's time management skills. If there was an event with a step-and-repeat, the Kardashians were there. If there was an event to be Snap-chatted, the Kardashians were there...snap-chatting.
With this notoriety came money, product launches, spinoff reality shows, magazine covers, book deals, and Emojis (oh, the Emojis!). But the laws of famous-people-physics dictate that nothing stays the same forever. A body in motion will remain in motion in a straight line unless acted on by an outside force.
Meet that outside force.
The number of eerie similarities between these notorious tribes is, well, eerie. It's easy to see what it takes to become synonymous with your last name, and even easier to see that so many others just don't have it. But don't simply take our word for it; we have evidence. We've done our due diligence, so much so that, if you'll excuse us, we think this s--t belongs in a GD science journal. (Nature, are you listening?)
Reality shows, reality shows, reality shows. Keeping Up With the Kardashians introduced the world to the family of K's (and J's), and The Real Housewives of Beverly Hills gave us the Hadids/Fosters.
Multiple high-profile divorces. First, Kris Jenner and then-Bruce Jenner rocked the tabloid world by announcing they were splitting after several decades together. It meant splitting up a very large, awesomely-complicated family, messing with Christmas traditions, finding new homes and all the usual messiness that comes with two millionaires parting ways. Never one to be outdone, Yolanda Foster (as she was known at the time) announced her own split from husband David Foster. And let's not forget that Kris was married to the late Robert Kardashian, and Yolanda to eccentric billionaire Mohamed Hadid.
Extended families that only Carrie Mathison can map out. Get out your thumbtacks and red string, because it's time for a crazy Homeland wall! The Kardashians are tied to the Jenners, of course, who are tied to the Fosters, through the former marriage of Linda Thompson (mother to Brody and Brandon Jenner) and David Foster. The Hadids are also tied to the Fosters through, duh, David Foster. Which makes them tied to the Jenners. Which makes all these families tied to each other and yes, if you're wondering, Calabasas and Malibu are very small towns.
Extremely extravagant parties. Anyone who has ever been to a Kris Jenner Christmas soirée can attest to thinking, at one point in time, why are there so many diamonds? And what is this giant crystal bear doing here? Yolanda may not have the regularity of the Christmas Eve get-together, but don't ever try to tell her she doesn't know how to overspend on a single night—just look at anything she's ever hosted for Gigi. (And, fun fact: David Foster is a regular attendee of the aforementioned Jenner bash.)
Vogue covers. First came April, 2014, when Kim Kardashian appeared alongside husband Kanye West. Then came August 2016, when Kendall finally got her due (after covering the Japanese and French editions, to name a few). And, lest us forget, Gigi covered her first Vogue this summer, too.
Social media. To make a long story short, all the sisters Kardashian, Jenner and Hadid are social media wizards. Kim started it all (and still reigns supreme with the most followers), Kendall followed on her heels with the most-liked photo of all time (heart hair for the win), but Gigi is right on their heels—and she's armed with Taylor Swift selfies.
Musical BFs. Kim married one of our time's most talented rappers, and then Gigi and Bella were like, nuh-uh! We're gon' go and get ourselves some crooners to cozy up with, and thus The Weeknd and Zayn joined the squad.
1D Lovers. We would be remiss if we didn't point out that Kendall had that...whatever it was...with Harry Styles, which is eerily similar to Gigi's later coupling with Zayn.
Viral pranks gone wrong. Remember that time Kim was flour-bombed on the red carpet? No, you don't, because all that's on your mind is Gigi punching that would-be prankster right in the face.
Family First. In the maelstrom of Keeping Up's rise to meteoric reality fame, the Kardashians fascinated a nation with their commitment to family above all else. Well, guess who else shares DNA and a penchant for loyalty? That's right: The Hadids.