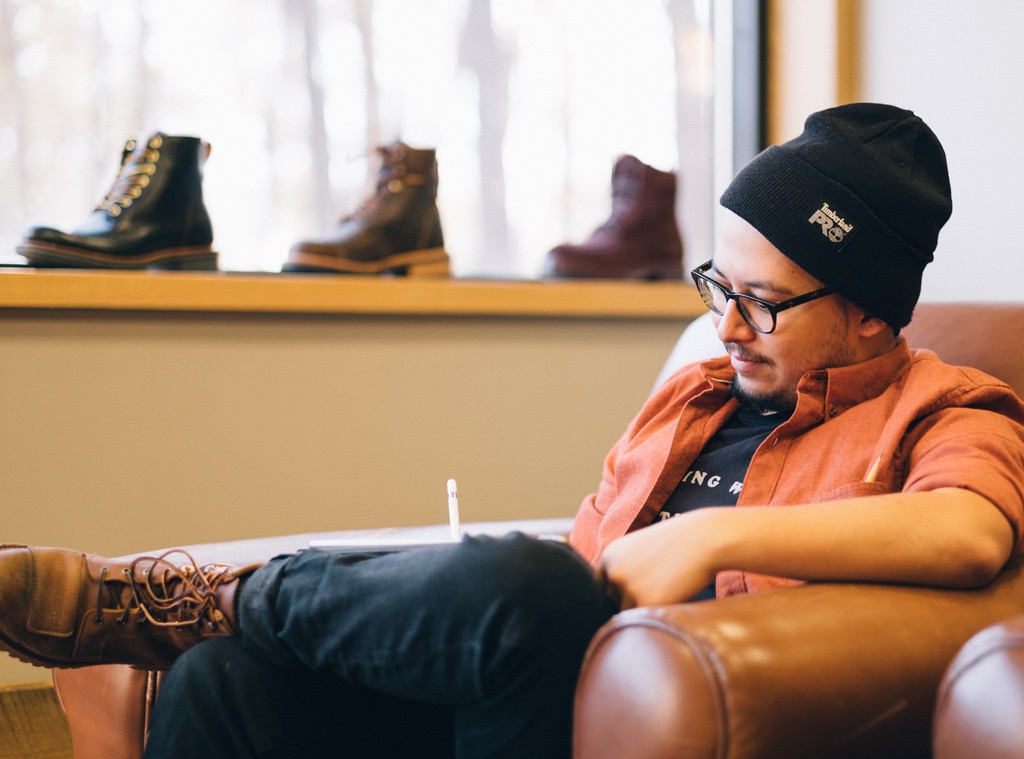 Did you catch Rihanna wearing those Timbs the other day?
Timberland has a long-standing history of celeb fans, so it's only natural i seek out the company's designer of men's and kid's casual footwear, Nick Dunleavy, to let us in on what it's like to work for such a brand. Sources talked everything from what a typical day like is for him to what the office is like (warning: it sounds dreamy) to the advice he'd give an aspiring creative.
So keep reading for all those answers and so many more.What was your first job?
[I was a] snowboard instructor.
How did you get into the industry?
I studied industrial design at Wentworth Institute of Technology in Boston, and their program requires two internship experiences. While I was looking for my first internship, I was recruited by a designer at New Balance.




What's a typical day like for you?
Typically, I wake up to my cat pawing my face because he likes to eat at a very specific time. If there's no snow on the ground, I'll hop on my motorcycle and take the long way into work. Then what I do at work depends on the season. In footwear, there's a repeated cycle. For a few weeks, you have time to search for inspiration. Then for a few weeks, you're focused on picking colors and materials as you create technical drawings that communicate your designs to the factories that make the shoes. As you wait for those prototypes to be made, you go back to drawing and research. There's a balance of working on a computer and working with paper and pencils that I really enjoy, and the process moves so fast that I always have a new challenge to try and solve for. Officially, my workday ends at five p.m., but being a designer isn't something I can turn off. I'm often up all hours of the night drawing or surfing design blogs until the sun starts to creep up and I grab a few hours of sleep before finding a cat paw on my face again.
Tell us about your office.
Our office is located near the coast of New Hampshire. It's a cozy space that promotes a community within our company. When people aren't at their desks you can find them talking around the coffee bar, in the gym or outside working on our garden. Our floor plan is a mix between traditional and open, allowing for collaboration but maintaining privacy for those days you need to put your head down, throw on some headphones and crank through some work.
What's the best part about your job?
Being able to travel all over the world and see how people live drastically different lives from each other. Design is less about drawing and more about understanding people, their needs and challenges. That's where design opportunities are.
What's the most daring career risk you've ever taken?
I think the most daring choice I've made came very early in my career. After my internship at New Balance, I decided that a career in footwear is what I wanted to pursue, and so for my second internship I only applied for one position—a design internship at Puma. I normally don't put all my eggs into one basket but for me, it was footwear or bust.
Tell us about your favorite celeb Timberland moment. I've been a fan of Ewan McGregor for a while now. His series The Long Way Around was a big reason I got into motorcycles. I had a bit of a nerdy moment when I heard we share similar opinions on how our Timberland Boot Company Lineman Boot would be a great motorcycle boot. He also was pictured wearing them in the October 2016 issue of Esquire, which I was a thrill to see. He seems like a guy I'd like to go on a bike ride with.
Who are some of your career heroes?
I feel so fortunate to have been guided by some really helpful mentors throughout my career. I was first introduced to Industrial Design when I interned for Anthony Wong at Palomar Medical (in Burlington, Mass). If it wasn't for Tony I wouldn't be a designer today. During my time at New Balance, Jodi Klann (New Balance Lifestyle Designer) showed me the type of designer I wanted to be. She's wildly creative, and she taught me the value of collaboration–she was a truly wonderful person to work for. Last but definitely not least is our Creative Director here at Timberland, Chris Pawlus. Chris set the example for the type of career I aspire to have one day. Chris has been with the company for almost 20 years, starting as a designer and working his way up to VP of Global Product Design and Creative Director. You only need to have one conversation with Chris to see why he's been so successful in his career. It's inspiring for me to see a company and an employee that are so committed to growing together, which is very hard to do in the footwear industry.
What's the best piece of advice you've ever received?
While I was in college, my professor told me you might think a career path is a straight line from point A to point B but in reality there are bunch of detours along the way. These detours might end up leading you down a different path, and you end up doing something you never imagined.
Finish the below sentences.
Today for lunch I had...steak and cheese.
The first website I log onto every day is…Complex.
If I wasn't doing this job, I would…try and find a way to get paid to ride bikes.
My favorite place to visit is…the Smokey Mountains. It has the most stunning scenery I've been able to visit.
The book I'm reading right now is…House of Leaves by Mark Z. Danielewski (for the fifth time).