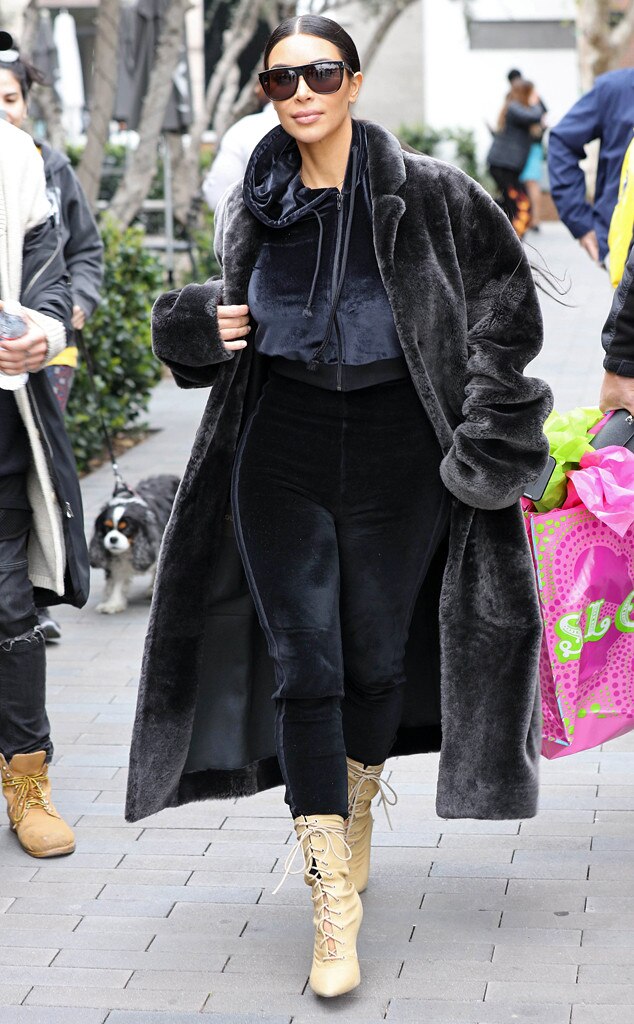 The morning of Oct. 3—when armed robbers broke into Kim Kardashian West's apartment in Paris, tied her up and stole $11 million dollars' worth of jewelry—marked the end of an era for the E! star. But that fateful morning also heralded the beginning of a new chapter for Kim.

Famous for her nearly minute-by-minute Snapchat and Instagram updates for her fans, the crime would prompt Kim to question her usual social media habits and virtually every other aspect of her public life and how it affected her safety and the safety of her family. She knew something would have to change.
But before she could even think about a comeback, Kim had to heal.
"This is something that has the potential to screw anyone up for a very long time," a source close to Kim told E! News following the incident, adding that the ordeal was "incredibly frightening" and that "it's going to be a process to get over it."
Five months later, Kim had recovered enough to return to the public eye. Here's how she harnessed her inner strength and made it happen:
1. She completely overhauled her security. The first sign that the mother of two had beefed up her personal security came two days after the robbery when close to 30 guards stood watch in and around the Manhattan apartment she shares with Kanye West. E! News learned that such a robust show of force costs close to $50,000 a day, and while Kim eventually would scale down her detail, she clearly took drastic, immediate steps to make her feel safer.
Moreover, within weeks, longtime Kardashian guard Pascal Duvier, who was not at Kim's apartment when the robbery occurred because he was protecting Kourtney Kardashian and her friends at a club across town, was noticeably absent from Kim's security team.
2. She took a social media timeout. Sources close to Kim tell E! News that she had blamed herself for the robbery, citing her real-time, geo-tagged promotion of the extravagant jewels she was often wearing. Her reaction was to completely stop sharing anything on any social media platform, which both made her feel less vulnerable and allowed her to truly focus on the healing process.
There were signs that she was on social media, just not posting, but it wasn't until Jan. 3—three months after the robbery—that Kim made her social media comeback. And yes, there were even images of her wearing expensive jewels. According to a Kardashian insider, "Her jewelry is part of her and she is not blaming herself for wearing the diamonds she has been given. She knows that her image is what makes Kim, Kim. She just has to be very careful going forward."
3. She got counseling. While holed up at her Bel Air home out of the public eye, Kim sought professional counseling to help her work through the trauma and stress stemming from being bound, gagged and robbed at gunpoint. Friends tell E! News that in the weeks after the Paris incident, Kim was having flashbacks and had trouble sleeping. With time and therapy, however, Kim overcame her anxieties.
4. She leaned on her family. Without the distractions of social media posting and public appearances, Kim made it her life's mission to be, in the words of one insider, "all about recovering and being around the people she loves and trusts. Being around her children is the biggest distraction for her mind."
Whether it was throwing a relatively low-key first birthday party for son Saint West in December or just retreating to the comfort of family, Kim's gaze inward proved healing. This included getting back in front of the Keeping Up With the Kardashians cameras in November, when she retold details of the Paris nightmare to her mom and sisters.
On a recent appearance on Ellen, Kris Jenner called filming their show a "therapeutic" experience for Kim.