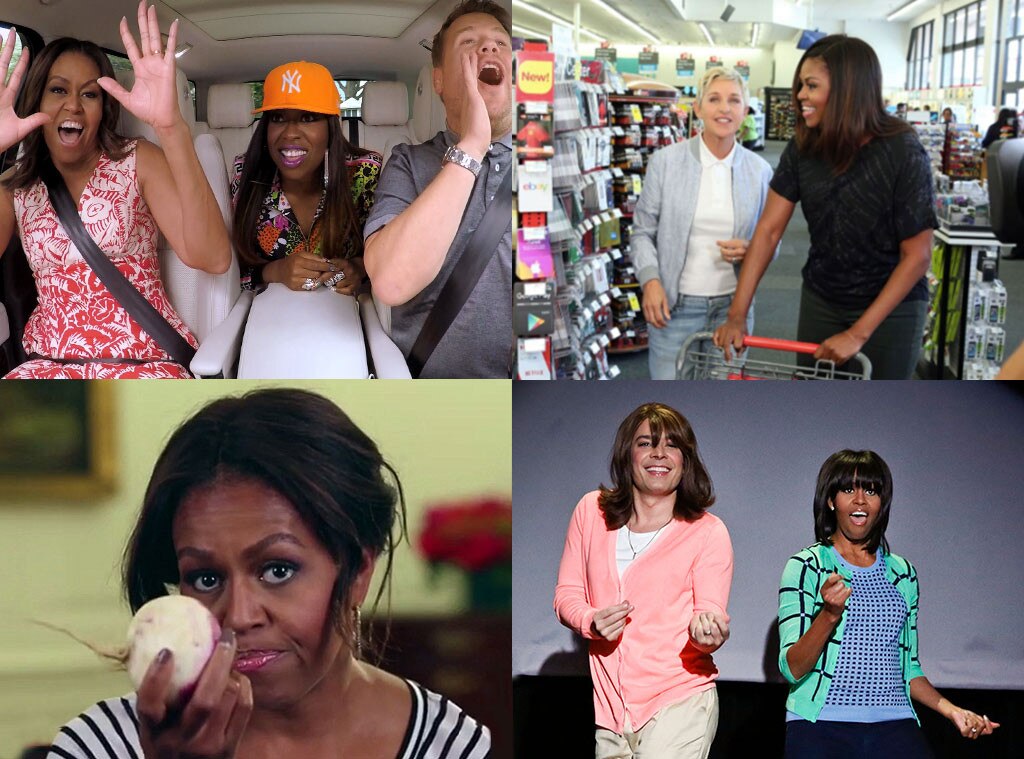 As the world prepares to say goodbye to First Lady Michelle Obama, I aM tempted to look back on some of my favorite memories. And since today is her birthday, why not relive these moments together?
From the very beginning back in 2009, FLOTUS proved she's not just any First Lady, she's a cool First Lady. With the dancing, singing, fist bumps and savvy style, Obama found a way to promote beneficial initiatives while also being extra hip and relatable.
It was so hard to choose my favorite cameos and performances, but i think you'll enjoy these pop culture moments...
Parks And Recreation
: Obama's cameo in the season six finale proved that we are all Leslie Knope (
Amy Poehler
) when meeting the wonderful woman known as Michelle Obama.
Mom Dancing With Jimmy Fallon:
When it comes to displaying the best mom dance moves, who better to help Fallon illustrate some epic technique when it comes to moves like raising the roof and the dougie than FLOTUS, herself?
Carpool Karaoke With James Corden:
We didn't need any more convincing to want to take a road trip with Michelle, but hearing her get down to some of our favorite hits (and then invite
Missy Elliott
to join her!), only made us love her even more.
Sesame Street: Obama made numerous appearances on our favorite childhood show, and along with being driving force behind the White House's largest-ever vegetable garden, Michelle reminds kids the importance of eating fruits, vegetables and breakfast!
CVS Shopping With Ellen DeGeneres: In an effort to prepare for life outside of the White House, Ellen made sure to help our girl navigate her way through CVS.
NCIS: Sometimes dreams do come true. Showrunner Gary Glasberg previously told E! News that he wanted FLOTUS to be a guest star on an episode dealing with military families, and it happened. "Initially, we wanted her to come to us and, understandably, for scheduling reasons that couldn't happen," Glasberg says. But all hope wasn't lost—her people invited NCIS to her house, instead. You know, the White House."

"Ew" With Jimmy Fallon: It's the First Lady, Jimmy Fallon and Will Ferrell saying "ew" and having a dance party. What else could you ask for?
Billy on the Street: Even FLOTUS couldn't believe she made this appearance "I think it was probably 'Billy on the Street,' when I was literally pushing [Billy Eichner] in a grocery cart in a grocery store," she says, via Variety.
"You know, that's when I thought, 'This is crazy.' But again, it resonated. It was something that was successful. Maybe if I'd done that in my first year, it might have been too much. But I think by the time we did this in the second term, people knew me. They understood the approach. It allows me to take a few more risks than in the first term, when people were just getting to know who I was."
iCarly: In an effort to support American military families, Obama appeared on Miranda Cosgrove's hit show in 2012, and in the process, upped her Nickelodeon street cred.

Jessie: You can't forget about Disney, though! Obama made a cameo on the series as part of the White House's Joining Forces initiative to awareness about the service, sacrifice and needs of military families.
Rory Gilmore Meets Michelle Obama: Ahead of the Gilmore Girls revival, Michelle got a surprise meeting from Rory Gilmore (Alexis Bledel), who made sure FLOTUS was hooked up with more than enough reading material for her travels.
The Oscars: Although FLOTUS didn't actually attend the 2013 Academy Awards, she did appear via satellite from the White House to present Argo with its award, and praised arts in America, saying "every day, through engagement in the arts, our children learn to open their imagination, to dream just a little bigger and to strive every day to reach those dreams."
Happy birthday, Michelle Obama!