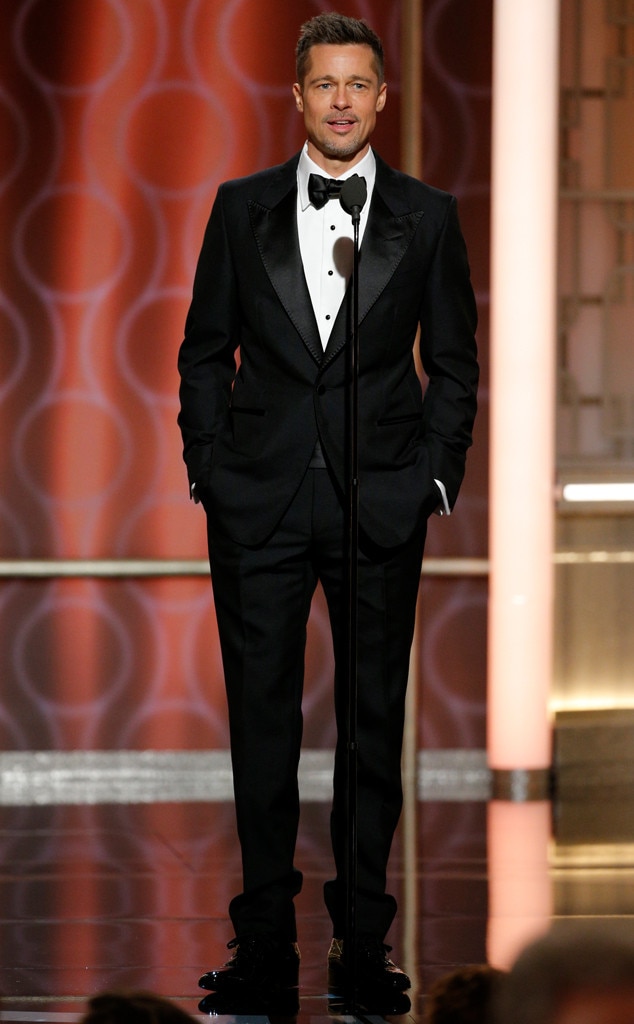 As if there was any doubt, Brad Pitt's still got plenty—and i mean plenty—of fans in Hollywood.
The beloved actor surprised the crowd at the 2017 Golden Globes on Sunday towards the end of the telecast to deliver the introduction package for Barry Jenkin's film Moonlight, nominated for Best Motion Picture, Drama (his company Plan B produced the film)—and the sight of the actor had everyone in the audience losing their minds.

As with most introductions right after a return from commercial break, the crowd offered their initial tepid applause as they began to settle back into their seats from their quick trip to the bar in the back, clearly only half paying attention. But once they realized just who it was standing before them, the cheers grew to a roar.
The actor's largely been out of the spotlight since his divorce from Angelina Jolie—and their subsequent custody battle over their six children—made headlines in September of last year. While he made his first public appearance at a private screening of Moonlight in Los Angeles in November, his time on stage at the Globes marks his first TV
appearance in some time.
And in the blink of an eye (or rather, the duration of the Moonlight sizzle reel), Pitt's presence on stage was over. In his place was host Jimmy Fallon, ready to introduce the next presenters, leaving us with only our brief
memories.
Until next time, Brad. But don't make us wait so long, you hear?