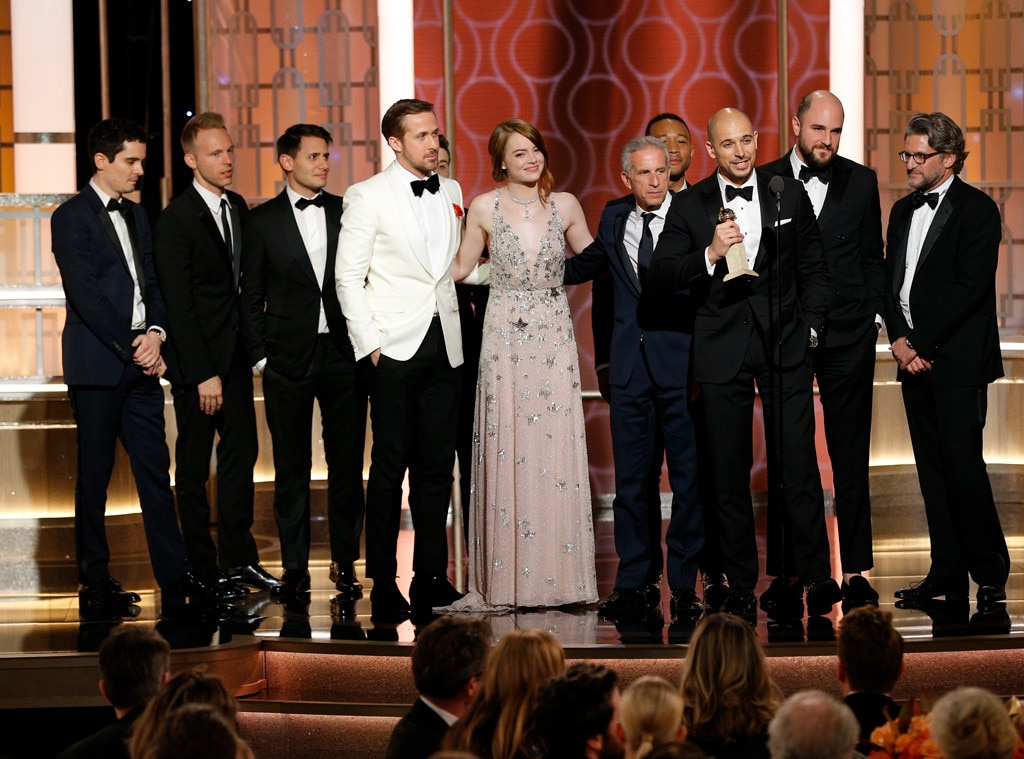 The "City of Stars" has spoken and Hollywood history has officially been made.
La La Land swept the 2017 Golden Globes, coming out on top
in all seven of the categories the musical-comedy was nominated in. The flick starring Emma Stone and Ryan Goslingofficially broke the record for the most Golden Globes won by any movie, a record previously held by 1975's One Flew Over the Cuckoo's Nest and 1978's Midnight Express.

As for awards won, La La Land dominated the following categories: Best Motion Picture, Musical or Comedy, Best Actor, Musical or Comedy (Gosling), Best Actress, Musical or Comedy (Stone), Best Motion Picture Director (Damien Chazelle), Best Motion Picture Screenplay (Chazelle), Best Original Score (Justin Hurwitz) and Best Original Song ("City of Stars").
When the entire cast took the stage to accept the evening's top
honor producer Fred Berger couldn't contain his excitement.
"This is so insane, I can't even tell you," he told the audience. "I promise you, six years ago when we started working on this movie, the idea of making an L.A.-set musical was an utter fantasy. Standing here tonight is more surreal than I could possibly describe."
Emma expressed her own disbelief after winning. She touched on her early days as an aspiring actress, explaining, "I have to start by thanking my amazing mom. Thank you, mom, for everything. I moved here 13 years ago this week, and without my mom and my dad and my brother, who has put up with me his whole life, thank you, Spence, you're the best.
And don't even get us started on Ryan's swoon-worthy acceptance speech. He shout out wife Eva Mendes and their two daughters in what might just be the sweetest public display of affection in award show history.
Now that award season has officially kicked off, who knows what other records La La Land will set out to smash?
Watch the Fashion
Police 2017 Golden Globes special Monday, Jan. 9, at 8 p.m., only on E!