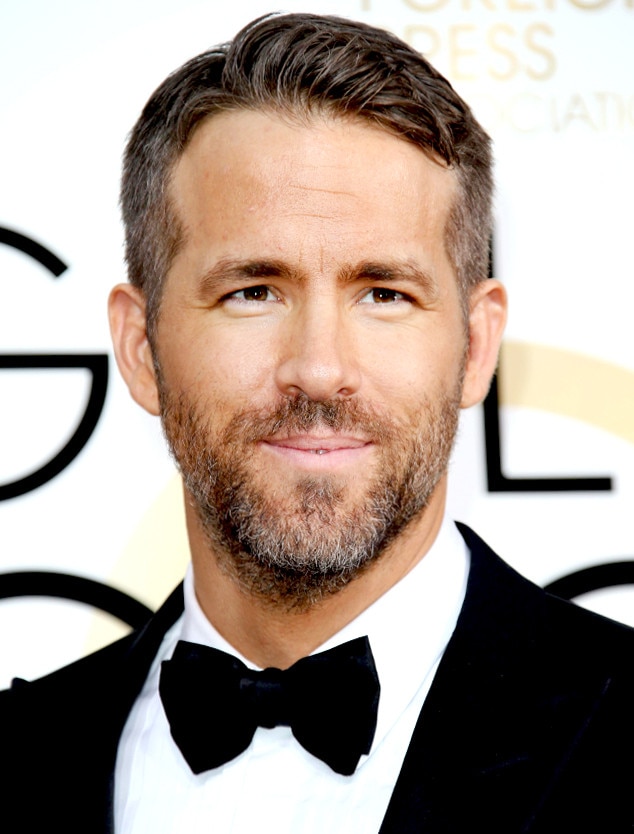 The beards were alive and well at the Golden Globes.
Chris Pine graced the red carpet with multi-dimensional-hued hair. Donald Glover came to win with shorter strands. Even Casey Affleck's whiskers were at both times curly and intentionally rugged. However, if we had to give it to one guy in the Best Grooming category, the award would have to go to Ryan Reynolds!

Despite traditional notions about men's beauty prep (a.k.a. the get-up-and-go approach), a well-prepped face for the fellas does take effort—just ask Kristan Serafino, who was responsible for the Deadpool actor's Golden Globes look.
"When grooming Ryan, I'll spend 30 minutes refining the shape of the cut, setting a styling product in the hair and applying makeup," said the pro, on behalf of RéVive Skincare. If I'm just touching up the skin, then it can take as little as 10 minutes."
What exactly does this process look like? Keep reading.
His Hair
In case you ever wondered what it's like to run your hands through Ryan's hair, it's thick and dense, noted the pro. The texture and density of any hair should really dictate what style and products you use.
"Ryan Reynolds is a union of old Hollywood meets contemporary man," said the pro. "I wanted to perpetuate the qualities of both eras. On the night of the Golden Globes, I cut his hair short on the sides with special attention to rounded corners (the parietal ridge) leading into length. The length is fullest on the top and crown of the head with plenty of texture. The shorter hair on the sides, along with a manicured stubble beard gives his evening style a relaxed elegance."
His Facial Hair
After cleansing and prepping the star's skin with serum, Kristan used RéVive Rescue Elixir Anti-Aging Oil as beard oil, using just a drop and applying it under the chin and massaging upward toward the cheeks. This also helps hydrate any dry patches.
Pro tip: Blake Lively's other half apparently doesn't mind a little gray—but for those who it might bother, she recommended using Anastasia of Beverly Hills Tinted Brow Gel to gently fill in the beard color where needed.
His Makeup
Believe it or not, Ryan is a "minimal makeup" guy. For final touches, Kristan used oil-free broad spectrum SPF 15 sunscreen to smooth out his pores for all those high-def cameras. Had it been a warm or extra-long night, however, she would've finished the look off with Mac Cosmetics Set Powder on the T-zone.
So take note, for yourself or for the men in your life, a little effort goes a long way.
"The biggest mistake is falling into a rut and not taking chances," said Kristan. "As a celebrity hairstylist and men's groomer, I am a big advocate of change. I'm not suggesting crazy deviations. But a styling plan between the hairstylist/groomer and client should be established for subtle seasonal changes, as well as daily grooming transitions between work, play and special occasions."